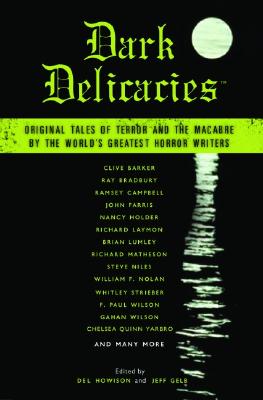 Dark Delicacies (Paperback)
Original Tales of Terror and the Macabre by the World's Greatest Horror Writers
Running Press, 9780786716760, 288pp.
Publication Date: September 1, 2005
* Individual store prices may vary.
or
Not Currently Available for Direct Purchase
Description
In a truly distinguished collection of twenty superb, sublimely dark tales written especially for this volume, such acknowledged contemporary masters of horror fiction as Clive Barker, Ray Bradbury, Ramsey Campbell, Nancy Holder, Richard Laymon, Brian Lumley, Joe Lansdale, Whitley Streiber, F. Paul Wilson, and Chelsea Quinn Yarboro serve up a veritable feast of fear. For the first time ever, Dark Delicacies, the world's foremost horror bookstore, lends its famous name and imprimatur to an anthology designed to please the palate of the genre's most discriminating fans. Throughout, the editorsDel Howison (co-owner of Dark Delicacies) and leading horror anthologist Jeff Gelbpresent perfectly crafted, freshly original horror-fiction fare that is as terrifying as it is chillingly delicious.
About the Author
Del Howison, founder of the world's most famous horror emporium and bookstore, Dark Delicacies, has used his extensive friendships in the horror field to compile this anthology. He is an esteemed expert in the genre and has made cameo appearances in a number of horror films. Howison lives in Los Angeles. Jeff Gelb is the leading anthologist in contemporary horror. He is the co-editor of the Hot Blood erotic horror series, which features multiple Bram Stoker award-winners. His anthologies have debuted new fiction by Stephen King, Lawrence Block, Joyce Carol Oates, Ramsey Campbell, and Brian Lumley. He lives in California.
Advertisement