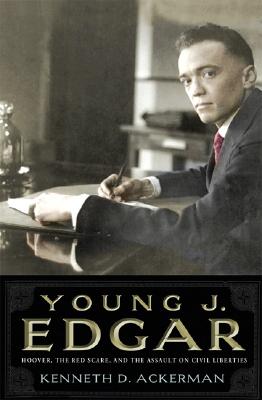 Young J. Edgar: Hoover, the Red Scare, and the Assault on Civil Liberties (Hardcover)
Hoover, the Red Scare, and the Assault on Civil Liberties
Da Capo Press, 9780786717750, 496pp.
Publication Date: April 1, 2007
* Individual store prices may vary.
or
Not Currently Available for Direct Purchase
Description
In 1919, when J. Edgar Hoover was 24 years old, a New York City postal clerk discovered sixteen bombs wrapped in individual packages America's first instance of homegrown terrorism. Then-Attorney General Palmer vowed a crackdown and enlisted Hoover as his deputy. Amid the hysteria, details of abuses emerged, Palmer fell, and the rise of J. Edgar Hoover began. Hoover's drive to gain immense power, as well as his coolness and calculation, is explored in Young J. Edgar. With the Palmer raid a as a lens through which to view the terrorhysteria of post-9/11 America, Young J. Edgar reaches the heart of our modern debate over personal freedom in a time of war and fear.
About the Author
Kenneth D. Ackerman is the author of Dark Horse: The Surprise Election and Political Murder of James A. Garfield, featured on C-Span's "Booknotes" and "BookTV" plus National Public Radio's "All Thing's Considered," The Gold Ring: Wall Street's Swindle of the Century and Its Most Scandalous Crash--Black Friday, 1869, which recounts a notorious attempt to corner the post--Civil War gold market, and Boss Tweed: the Rise and Fall of the Corrupt Pol who Conceived the Soul of Modern New York, a biography of the famous New York Tammany Hall strongman. Ackerman is a 25-year veteran of senior positions in Congress, the executive branch, and financial regulation. As Administrator of the Department of Agriculture's Risk Management Agency from 1993 through 2001, he headed the Federal crop insurance program that protects more than one million American farm producers. Ackerman has also served two tours on U.S. Senate staffs, first as Counsel to the Committee on Governmental Affairs (1975--81) under then-Senator Charles H. Percy, Republican, of Illinois, and later as Special Counsel to the Committee on Agriculture, Nutrition, and Forestry (1988-93) under its then-Chairman Senator Patrick Leahy, Democrat, of Vermont. During the years between, he held senior legal positions at the U. S. Commodity Futures Trading Commission. In these positions, Ackerman has investigated issues ranging from the 1979-180 silver corner to the 1987 stock market crash, and developed legislation on topics from farm policy to electronic eavesdropping to civil service reform to financial market oversight. He has testified before dozens of Congressional hearings and town meetings with farmers in more than twenty states, as well as bar assciations and government officials in London, Warsaw, Vienna, Tel Aviv, and Ramallah. He was profiled in Government Executive magazine in 1997 and included by the National Journal that year in its "Washington 100" list of top Federal decision-makers. He currently teaches seminars on legislation and lobbying for TheCapitol.Net and serves on the board of Washington Independent Writers. A native of Albany, New York, and graduate of Brown University (1973) and the Georgetown University Law Center (1976), Ackerman practices law in Washington, D. C. and lives with his wife Karen in Falls Church, Virginia.
Advertisement