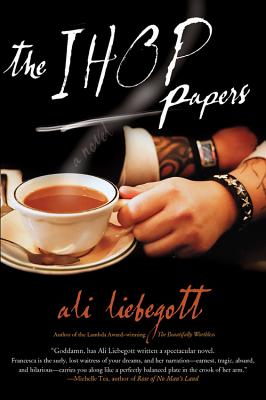 The IHOP Papers (Paperback)
Carroll & Graf Publishers, 9780786717941, 245pp.
Publication Date: January 1, 2007
* Individual store prices may vary.
Description
Francesca, a disgruntled nineteen-year-old lesbian, tries desperately to pull together the pieces of her scattered life. This hilarioius, heartfelt novel opens with Francesca newly arrived in San Francisco. She has fled her hometown, where she rented her childhood room from the new family who moved in when her parents moved out. The new tenants happened to be her childhood babysitter and her alcoholic husband. But Francesca's move to San Francisco is no mere coincidence. A lonely virgin searching for her sexual identity and obsessed with her philosophy teacher, Francesca has followed her professor, Irene, to California, where Irene has relocated to live with her young male lover and former student.

Once in San Francisco, Francesca is forced to work at the local pancake house. Much to her dismay, she has to wear a ridiculous Heidi of the Alps uniform — which is almost as humiliating as serving the array of speed freaks and other graveyard shift misfits. Suicidal and euphoric, Francesca seeks solace in anything and anyone who might distract her from her unrequited love for Irene. More than a coming of age story, The IHOP Papers is a comic portrait of survival and self-discovery on the IHOP late shift.
About the Author
Ali Liebegott's work has appeared in numerous journals and anthologies. Her book-length poem, "The Beautifully Worthless," was published to acclaim in 2005. She has performed her work throughout the country, including twice with Sister Spit's Ramblin' Road Show. Liebegott is a recipient of a Poetry Fellowship from the New York Foundation for the Arts. She teaches creative writing at UC San Diego.
or
Not Currently Available for Direct Purchase