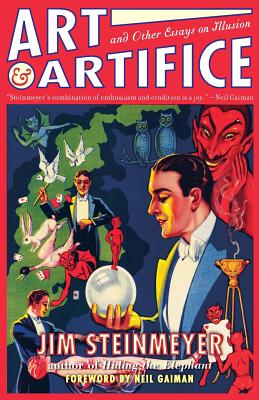 Art and Artifice (Paperback)
And Other Essays of Illusion
Da Capo Press, 9780786718061, 204pp.
Publication Date: October 10, 2006
* Individual store prices may vary.
Description
From the author of Hiding the Elephant and The Glorious Deception comes a collection of five essays that shows how the great stage illusions were integrally products of their time, based on the traditions and fashions of the people, and the offspring of the incredible, inventive personalities who brought them to the stage. Like no other author, Jim Steinmeyer gives us insight into the timeless appeal of magic. His human subjects include such characters as Steele MacKaye, Maskelyne, David Devant, P.T. Selbit, Horace Goldin, and Charles Morritt. Illusions he discusses include: The Mascot Moth, Sawing a Lady in Halves, and Morritt's Disappearing Donkey.
About the Author
Jim Steinmeyer has invented many of the famous illusions used by leading magicians from Ricky Jay to Siegfried & Roy. He created David Copperfield's vanish of the Statue of Liberty and has also designed magic for six Broadway shows and many other productions, including Mary Poppins, currently playing in London's West End. He is the author of Hiding the Elephant, the Los Angeles Times bestseller, which Teller hailed as "a radiant celebration of the genius, glamour, and gargantuan egos of stage magic."
Steinmeyer has researched and rediscovered many great illusions of the past and has written numerous technical books on magic history and the techniques of magic. He lectures on these subjects and is a contributing editor to Magic magazine, the leading independent magazine for magicians.
In addition, Steinmeyer has served as consultant and producer for magic television specials in the United States and Great Britain, and was a writer and producer for the A&E network's four-hour history of the art, The Story of Magic. For several years, he served as a consultant and concept designer for Walt Disney Imagineering, developing theme park attractions for The Walt Disney Company.
Jim Steinmeyer lives in Los Angeles with his wife, Frankie Glass, an independent television producer.