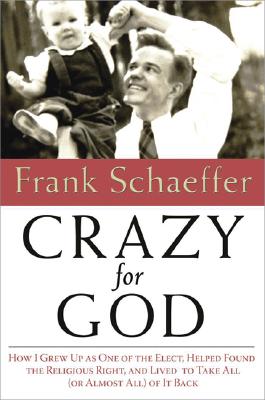 Crazy for God: How I Grew Up as One of the Elect, Helped Found the Religious Right, and Lived to Take All (or Almost All) of It (Hardcover)
How I Grew Up as One of the Elect, Helped Found the Religious Right, and Lived to Take All (or Almost All) of It
Da Capo Press, 9780786718917, 448pp.
Publication Date: October 1, 2007
* Individual store prices may vary.
or
Not Currently Available for Direct Purchase
Description
Frank Schaeffer grew up in Switzerland's L'Abri, an idealistic community founded by his parents, the American evangelicals Francis and Edith Schaeffer. By the time he was 19, his parents had achieved global fame as best-selling authors and speakers, l'Abri had become a mecca for spiritual seekers worldwide from Barbara Bush to Timothy Leary and Frank had joined his father on the evangelical circuit. By the age of 23, he had directed two multi-part religious documentaries and had helped instigate the marriage between the American evangelical community and the anti-abortion movement. But as he spoke before thousands in arenas around America, published his own evangelical bestseller, and worked with such figures as Pat Robertson, Jack Kemp, Jerry Falwell, and Dr. James Dobson, Schaeffer felt alienated, precipitating his own crisis of faith and eventually resulting in his departure. Schaeffer has since become a successful secular author. He was reduced to stealing pork chops from the grocery store in LA, rather than take on any more high-paying evangelical speaking gigs. With its up-close portraits of the leading figures of the American evangelical movement, Crazy for God is a uniquely revealing and powerful memoir, which tells its story with empathy, humor, and bite.
About the Author
Frank Schaeffer was born in Switzerland to the famous American evangelical theologian and evangelist Dr. Francis Schaeffer. After a period in Hollywood as a documentary and feature film director, he became a bestselling author of both fiction and nonfiction. Schaeffer has written for USA Today, The Washington Post, Reader's Digest, the San Francisco Chronicle, and the Los Angeles Times. His previous works about the American Evangelical movement include Portofino and Zermatt. He has written the bestselling Keeping Faith: A Father-Son Story About Love and the United States Marine Corps, about his son's service in the military, which he followed with Faith of Our Sons: A Father's Wartime Diary, and AWOL: The Unexcused Absence of America's Upper Classes from Military Service. Frank now resides in Boston and New York City with his wife, Genie.
Advertisement