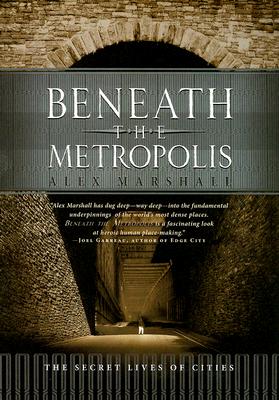 Beneath the Metropolis (Paperback)
The Secret Lives of Cities
Running Press, 9780786720262, 272pp.
Publication Date: October 1, 2007
* Individual store prices may vary.
Description
The pulse of great cities may be most palpable above ground, but it is below the busy streets where we can observe their rich archaeological history and the infrastructure that keeps them running. In Beneath the Metropolis journalist Alex Marshall investigates how geological features, archaeological remnants of past civilizations, and layered networks transporting water, electricity, and people, have shaped these cities through centuries of political turbulence and advancements in engineering — and how they are determining the course of the cities' future.

From the first-century catacombs of Rome, the New York subway system, and the swamps and ancient quays beneath London, to San Francisco's fault lines, the depleted aquifer below Mexico City, and Mao Tse-tung's extensive network of secret tunnels under Beijing, these subterranean environments offer a unique cross-section of a city's history and future.

Stunningly illustrated with colorful photographs, drawings, and maps, Beneath the Metropolis reveals the hidden worlds beneath our feet, and charts the cities' development through centuries of forgotten history, political change, and technological innovation.
About the Author
Alex Marshall, an independent journalist in New York City, is the author of How Cities Work: Suburbs, Sprawl and The Roads Not Taken, and is a Senior Fellow at the Regional Plan Association in New York City. His work has appeared in The New York Times Magazine, Metropolis Magazine, Salon, Slate, and many other publications. A former staff writer for The Virginian-Pilot in Norfolk, Marshall was a Loeb Fellow at Harvard University in 1999-2000. Marshall holds a master's degree in Journalism from Columbia University in New York, and a bachelor's degree in Political Economy and Spanish from Carnegie-Mellon University in Pittsburgh. Marshall lives in Brooklyn with his wife, the documentary film editor Kristin Barlow, and their son Max.
or
Not Currently Available for Direct Purchase