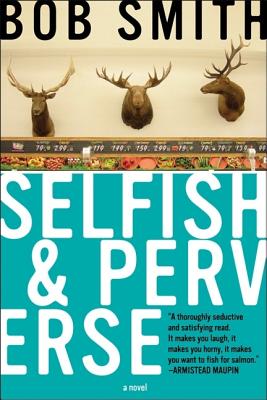 Selfish and Perverse (Hardcover)
Da Capo Press, 9780786720408, 304pp.
Publication Date: August 1, 2007
* Individual store prices may vary.
or
Not Currently Available for Direct Purchase
Description
Nelson Kunker is trapped in his job as the script supervisor on Aftertaste, the low-rated late-night sketch television show. His life in Los Angeles has come to a halt because he's unable to finish the novel he's writing, doesn't have a boyfriend, and, at the pivotal age of thirty-four, has reached the juncture where he has to decide whether he's really talented or just gay. One day he meets Roy Briggs, a part-time salmon fisherman/full-time archaeology student who's visiting from Alaska. When Nelson attempts to make small talk with the handsome Roy, he references an obscure but haunting story about bowhead whales that startles the science nerd in both men into suspecting that they might be soulmates. Unfortunately, Nelson discovers his soul is a bit of a slut when he also meets the guest host of that week's show, the surprisingly bookish movie star Dylan Fabizak, freshly paroled after a drug bust. When the three end up at Roy's home in Alaska, hilarity, love, and debauchery ensue. Wooed by both Roy and Dylan, Nelson comes to strongly identify with the salmon they are fishing for another insanely driven species that will overcome every hurdle in its search for love.
About the Author
Born in Buffalo, Bob Smith has the distinction of being the first openly gay comedian to appear on The Tonight Show and also have his own HBO Comedy Half-hour. Other TV appearances include Politically Incorrect, The Late, Late Show, Entertainment Tonight, Tom Snyder and Comedy Central's Out There. Bob's Lambda Literary Award-winning collection of essays, Openly Bob, was published to acclaim by Rob Weisbach Books/William Morrow, and his most recent Lambda Literary Award-nominated book, Way To Go, Smith!, was published by HarperCollins. He's written for Amblin Films, The MTV Video Awards, Dennis Miller, Roseanne and was a staff writer for Fox's MAD-TV. His sketch, The Zapruder Films, was recently featured in The Best of MAD-TV. Bob's comic essays have appeared in the anthology America's Best Contemporary Humorists: Mirth of A Nation and 101 Damnations published by St. Martin's Press. His most recent essay, "The Test" appears in When I Knew edited by Robert Trachtenberg. Bob is a regular contributor to Out magazine where he writes the popular monthly list column and feature articles. He recently appeared in HBO's documentary about the first gay and lesbian family cruise, All Aboard -- Rosie's Family Cruise. In 2007, Bob will be doing standup on Logo's series Wisecracks, and he'll also be one of six gay male comics featured in the Logo documentary film Laughing Matters - The Men.
Advertisement