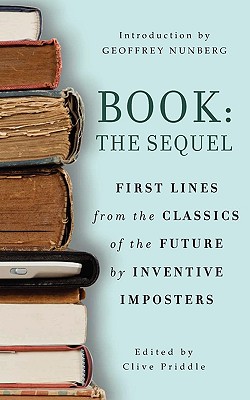 Book (Paperback)
The Sequel: First Lines from the Classics of the Future by Inventive Imposters
Perseus (for Hbg), 9780786747818, 144pp.
Publication Date: June 1, 2009
Other Editions of This Title:
Paperback, Large Print (5/30/2009)
* Individual store prices may vary.
Description
After the last page is turned and the cover closed on a great book, is it really over? Ever wonder what happens to Harry Potter after, say, twenty years of marriage and a steady government gig? Or what Karl Marx would say about today's financial crisis? What did Scarlett O'Hara really think about tomorrow?
What comes after "ever after?"
BOOK: The Sequel dares to answer these burning questions with imagined first sentences from would-be follow-ups to classics from The Bible to Lord of the Rings, and from Green Eggs to Hamlet.
A delicious and unexpected return engagement from favorite characters like Jane Eyre, Ebenezer Scrooge, Jay Gatsby, Holden Caulfield, Wilbur the Pig, and Captain Ahab, BOOK: The Sequel is a perfect gift for book lovers everywhere, or anyone to whom "The End" is simply the starting point for their imagination.
Praise For Book: The Sequel: First Lines from the Classics of the Future by Inventive Imposters…
Publishers Lunch Deluxe
"The team at the Perseus Books Group put on a spirited show while making their title Book: The Sequel mostly in front of fairgoers' eyes over two days. The crowd guided them to a cover design they had not intended to select, and the enterprise was an inspiring model of how contemporary publishing can in fact be be fast and nimble across a complex array of platforms and media, crowd-sourced and inclusive. As the staff underscored right before their Saturday 4 pm launch party, they also proved before people's eyes it takes a team to publish a book. And Perseus certainly seemed to build internal enthusiasm and teamwork among their jerseyed employees from all parts of the company. (Even former ceo Jack McKeown is a contributor to the book, featured on page 105.) And we heard good reviews for Perseus's other initiative, offering 'speed-dating.'"

Los Angeles Times
"... On the one hand, an instant book is a convention gimmick, a way to generate buzz. It succeeded: Book: The Sequel was unveiled to a crowd that included National Book Foundation Executive Director Harold Augenbraum and Grove Atlantic Publisher Morgan Entrekin. But more important, the book indicates ways the publishing industry can be more responsive as well as illustrating the viability of print on demand.…"

Washington Post
"FAST READERS: There are instant books and then there's Book: The Sequel, commissioned by the Perseus Books Group. The books are organized and published within 48 hours, with finished copies produced and distributed at BookExpo America. Readers contributed such opening lines to the imagined sequels of classics: "Call me, Ishmael!" for Moby Dick's Guide to Dating at Sea."

John Mutter, Shelf Awareness
"Not only was a final version of the paperback edition delivered on that timeline, arriving dramatically in the Perseus booth at 4 p.m., but thanks to the creativity and participation of numerous partners (including BEA attendees), multiple formats of Book: The Sequel were created at hyper-speed as well. These included a digital audio version; editions in large print, Braille and on several e-book platforms; and complementary marketing tools like a website and reading group guide…."Part of the reason we did this was to make BEA fun," said Susan Weinberg of PublicAffairs. It worked."
Which quote was your favorite and why?
What books should be "left alone" (i.e. are too sacred—in your estimation—to adapt)?
Some sequels begin at the end of the original; some are re-imaginations of the original book. What part of a book has more impact to you: the beginning or the end?
Is sequel-writing a good idea?
What "real" sequels do you wish had never been written?
Which sequel caused you to read or want to re-read the original again?
Which book was not represented in this project that you'd like to see sequelled?
What was the last book you read in book club? What would be the first sentence of the sequel to that book?
Is there a book you were forced to read at some point that you'd like to revise in a sequel?
Do you think more of these sequels were written in love or anger?
Are you the kind of person who can read the sequel without reading the original?
The most sequelled books in Book: The Sequel were

a. The Bible

b. Moby Dick

c. Pride and Prejudice

d. A Tale of Two Cities

e. The Great Gatsby

f. Metamorphosis

g. Harry Potter

h. Gone With the Wind

i. Jane Eyre

j 1984
What do these books have in common that made their sequels so easily re-imagined?
or
Not Currently Available for Direct Purchase