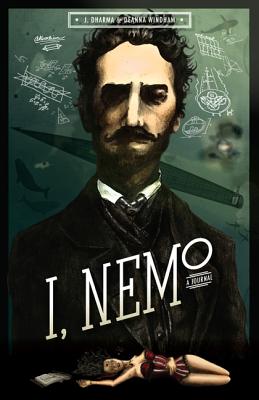 I, Nemo
Paperback

* Individual store prices may vary.
Description
What if the Nautilus and its famous captain wasn t fiction?
Jonathan de Chevalier Mason has it all: A promising career designing warships for Her Majesty's Navy, a beautiful well-born wife and two children. Two of his new ironclads are sending shockwaves rippling through the navies of the British Empire's European and American rivals. But Jonathan has designed another shipa revolutionary warship so terrible that whoever possesses it will be master of the seas. And no one wants it more than the very people Jonathan works forthe British Government. But for reasons of his own, Jonathan has no intention of ever allowing his creation to see the light of day.
One gray winter morning he is arrested on a bogus charge of treason, tried and convicted in a secret court, and then packed off to a remote penal island to toil ceaselessly in its steaming jungle swamps. Then fortune smiles on Jonathan when he encounters an elderly priest and his little band of followers. Together the two men hatch a plot to escape and forever be free of the tyrannical governments that unjustly imprisoned them. But Jonathan has a score to settle and soon his betrayers will feel his wrath.
Paying homage to Alexandre Dumas, Herman Melville, and, of course, Jules Verne, "I, Nemo" is a high seas, high stakes adventure that will leave you wanting more
J. Dharma Windham has been shaking things up with his science fiction offerings since 2005. He and his chosen genre go all the way back to his "flashlight under the blanket-on-school-night" days. He's come up in the world since then. Now he reads novels on an e-book while sipping a redeye at the Starbucks down the street. He is a historian by training with an avid love of science and technology. Combing such disparate interests to create compelling science fiction set against a historical backdrop is an obsession. He lives in Southern California with his lovely wife, two perfectly delightful daughters, and a not always delightful cat. During his free time, he likes to tinker with his classic Jaguar E-Type and eat mangoes.
Deanna Windham is a physician, writer, teacher, and sage. She treated her first patient (her teddy bear with a broken ear) at age seven and wrote her first book (not worth mentioning further) at age fifteen. Her early medical endeavors being more successful on the whole than her early writing endeavors, she chose to pursue a career in medicine and she has a successful Integrative Medical Practice in Newport Beach, CA where she still uses her skills to tell a tale in order to reach her patients and inspire them to change their lives. Ever the artist at heart, though, she began contributing to Dharma's writing career to a significant point in 2008 and hasn t looked back. She now has an active and varied writing and lecturing career in and out of medicine. She prides herself in being a life partner (different and more profound than a wife) as well as a devoted mother of two princesses, ages four and six, and Contessa (a very imperious cat.)

Argo-Navis, 9780786752867, 285pp.
Publication Date: May 1, 2012