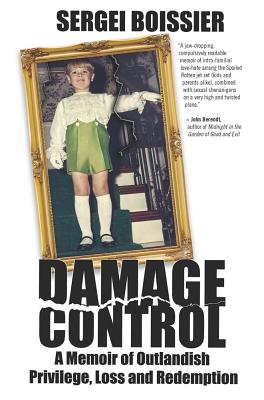 Damage Control (Paperback)
A Memoir of Outlandish Privilege, Loss and Redemption
Carol Mann Agency, 9780786755844, 296pp.
Publication Date: April 8, 2014
Description
A powerful blazingly honest memoir told with humor and panache about a mother and son finding each other again after years of estrangement. A coming-of-age story of outrageous excess, glamour, entitlement and grand delusion, lived above the fray and over the top. A gay man's journey through the joys and perils of his generation, coming out in the early eighties in the shadow of a terrifying of disease that would devastate so many, surviving tremendous loss and culminating in his decision to adopt a child as a single parent. When Sergei, a psychotherapist who has been living in Paris for the past decade, discovers that his mother is terminally ill, he decides to leave his practice and his life to be by her side, in the hope of healing the bitterness and discord before it is too late. Alternating between a narrative of Dollsie's last months as she battles cancer, interwoven with poignant and hilarious and at times shocking scenes from their outlandishly privileged lives, DAMAGE CONTROL is a story about exile and loss, searching and escape. From the mountain villages of Gstaad, Switzerland, to New York and Miami and Cuba, the narrator revisits the chateaux and chalets of his childhood, exploring the emotional and geographical landscapes of a mother and son whose lives are revealed to be poignant parallels of each other. After avoiding his mother for a lifetime, seeking shelter from her destructiveness and her drinking and her rage, Sergei comes face-to-face with this narcissistic woman confronting mortality for the first time, and through his own experiences as an activist and a therapist and a man who has faced his own mortality at young age, he helps her to come to terms with all her guilt and regrets and fear of dying. This memoir offers a fascinating and disturbing portrayal of a glamorous woman whose life has been one of great elegance and luxury, along with disillusionment, grandiosity, seduction and self-destruction: her childhood in pre-Castro Cuba, a mythical island paradise; her marriage at the age of eighteen to a dashing young Swiss man and their subsequent exile; her frantic and desperate resolve to create a mythical life of her own and pass on the traditions of aristocracy to her children, all the while leading a double life and suffering feelings of intense longing and frustration and guilt which eventually cause her to destroy and walk away from everything that she has been raised to want and expect out of life. DAMAGE CONTROL is ultimately a rendering of the cycle of life, saying goodbye to a parent so you can say hello to a child, and finding grace and redemption through a mother's love.

Advertisement