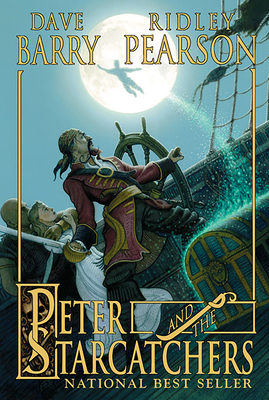 Peter and the Starcatchers (Peter and the Starcatchers, Book One) (Paperback)
Disney-Hyperion, 9780786849079, 480pp.
Publication Date: May 1, 2006
Other Editions of This Title:
Prebound (5/1/2006)
Compact Disc (8/1/2004)
Paperback (9/1/2009)
Hardcover (9/1/2004)
Paperback (7/1/2005)
MP3 CD (8/30/2004)
MP3 CD (5/13/2014)
Compact Disc (11/1/2012)
MP3 CD (6/1/2014)
MP3 CD (8/1/2004)
Compact Disc (8/30/2004)
Prebound (5/1/2006)
Hardcover (12/1/2007)
Compact Disc (6/10/2014)
MP3 CD (11/1/2012)
* Individual store prices may vary.
Description
Best-selling authors Dave Barry and Ridley Pearson have turned back the clock and revealed a wonderful story that precedes J. M. Barrie's beloved Peter Pan.
In an evocative and fast-paced adventure on the high seas and on a faraway island, an orphan boy named Peter and his mysterious new friend, Molly, overcome bands of pirates and thieves in their quest to keep a fantastical secret safe and save the world from evil.
This riveting adventure takes listeners on a journey from a harsh orphanage in old England to a treacherous sea in a decrepit old tub. Aboard the Never Land is a trunk that holds a magical substance with the power to change the fate of the world - just a sprinkle and wounds heal; just a dusting and people can fly. Towering seas and a violent storm are the backdrop for battles at sea. Bone-crushing waves eventually land our characters on Mollusk Island - where the action really heats up.
Peter and the Starcatchers is brimming with richly developed characters, from the scary but somehow familiar Black Stache and the ferocious Mister Grin to the sweet but sophisticated Molly and the fearless Peter.
About the Author

Ridley Pearson is the best-selling co-author of Peter and the Starcatchers and Peter and the Shadow Thieves. He is also the author of fourteen novels, including Cut and Run, The Middle of Nowhere, The Pied Piper, Beyond Recognition, No Witnesses, The First Victim, Undercurrents, and Parallel Lies. He was the first American to be awarded the Raymond Chandler/Fulbright Fellowship in Detective Fiction at Oxford University. In addition, he secretly wrote The Diary of Ellen Rimbauer, which was a companion book to the ABC-TV production of Stephen King's Rose Red.


Greg Call studied graphic design at the Colorado Institute of Art in Denver. After graduating in 1983, he worked as an Art Director at the Colorado Institute of Art until the desire to do more illustrative work found him in Pasadena, California, attending The Art Center College of Design. Upon graduation in 1988, he began working freelance for clients in music, entertainment, and publishing. Greg has been recognized for his work repeatedly, including awards from the Society of Illustrators and Addy awards among others.