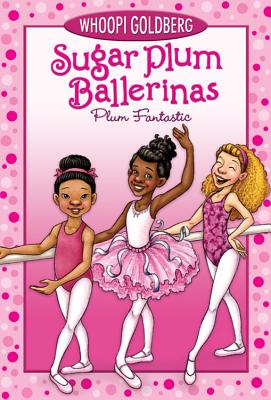 Sugar Plum Ballerinas, Book One Plum Fantastic (1) (Paperback)
Jump At The Sun, 9780786852604, 160pp.
Publication Date: October 21, 2008
Other Editions of This Title:
Hardcover (10/21/2008)
* Individual store prices may vary.
Description

Alexandrea Petrakova Johnson does not want to be a beautiful ballerina, and she does not want to leave her friends in Apple Creek. Unfortunately, that doesn't stop her ballet-crazy mother from moving them to Harlem, or from enrolling Al at the Nutcracker School of Ballet.


Life is hard when you're the new ballerina on the block, and it's even harder when you're chosen to be the Sugar Plum Fairy in the school recital! Not only is Al a terrible dancer, but she's also got a rotten case of stage fright! Al's ballet classmates are going to have to use all the plum power they've got to coach this scary fairy!
About the Author

Whoopi Goldberg is the author of the Sugar Plum Ballerinas books and of Whoopi's Big Book of Manners, illustrated by Olo. She has won a Tony, an Emmy, and Oscar, and a Grammy, as well as two Golden Globes. In 2001 she was awarded the prestigious Mark Twain Prize for American Humor. Whoopi Goldberg has appeared in scores of films,and is a host on ABC's The View.
Whoopi Goldberg lives in New York and Vermont.
Deborah Underwood's book credits include Sugar Plum Ballerinas: Plum Fantastic; Pirate Mom; and the forthcoming picture book Granny Gomez and Jigsaw, illustrated by Scott Magoon. Her ballet career was cut short by a tragic lack of talent, but she can sing a mean aria and knows four ukulele chords. She lives in Northern California with her cat, Sports Fan. Visit her online at www.DeborahUnderwoodBooks.com.
Maryn Roos was always better at drawing ballerinas than being one. Beyond ballerinas, she has drawn everything from monsters to dancing ducks in dozens of books and several educational software programs, most recently for Imagine Learning English. Maryn lives and draws, and very rarely dances, in Provo, Utah.