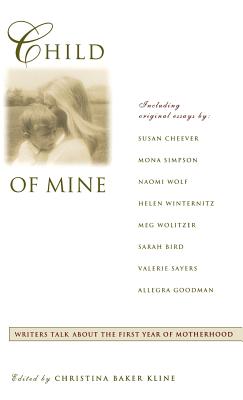 Child of Mine
Original Essay's on Becoming a Mother
Hardcover

* Individual store prices may vary.
Description
It's difficult to understand just how overwhelming, exhilirating, joyous, and lonely becoming a mother can be--until it happens to you. While many aspects of motherhood are universal, the core of each woman's experience is highly individual and deeply personal. Child of Mine is a book of original essays that reveal the many faces of motherhood, and which explore the amazing variety of feelings and changes that women go through in the first year of maternity. The essays--by writers including Susan Cheever, Mona Simpson, Sarah Bird, Naomi Wolf, Meg Wolitzer, and many more--address a wide range of concerns, from changes in your marriage to delivery experiences to body image, to the mother/child bond, to ambivalence about breastfeeding. We see an African-American mother who's conflicted about hiring a Jamaican babysitter; we see an urban working mom who's delighted to be back to her job after maternity leave; we see a mother's nightmare journey through a year of her son's colic. In one of the most moving pieces in the book, a mother living in dire poverty in the Vermont backwoods tells of raising her daughter, making do with clothing and toys from the Salvation Army. And we see the adoption experience with all its ups and downs. The book covers an amazing breadth of experience, and readers will recognize themselves as they discover that other mothers have felt the same emotions, cried the same tears, thrilled to similar milestones, and suffered the same indignities and heartaches in the challenging first year of motherhood. Child of Mine will be the perfect book for mothers-to-be and new mothers, as it will prepare them in a way that no guide or manual can for the exciting and challenging times to come.
Hachette Books, 9780786862337, 352pp.
Publication Date: May 1, 1997
About the Author
Christina Baker Kline is a novelist and nonfiction writer. She is the author of the novel Sweet Water, and coauthor of The Conversation Begins: Mothers and Daughters Talk About Living Feminism. She has taught creative writing at Yale, New York University, and the University of Virginia, and currently resides in New York City with her husband, David, and her two children, Hayden and William.