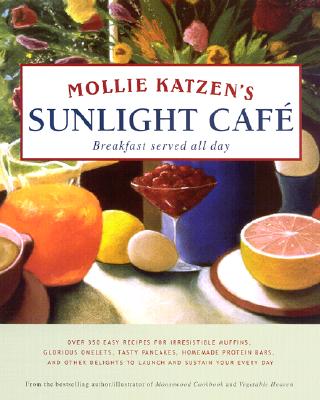 Mollie Katzen's Sunlight Cafe (Hardcover)
Breakfast Served All Day
Hachette Books, 9780786862696, 320pp.
Publication Date: September 18, 2002
* Individual store prices may vary.
Description
Breakfast is back! And Mollie Katzen's Sunlight Café offers tasty, protein-rich, meatless breakfasts to boost your energy level and get you going first thing in the morning--or any time of the day. Mollie Katzen provides simple, mouth-watering, healthful recipes and menus for every day of the week, whether you are preparing a sit-down brunch for ten, breakfast-on-the-go for kids running late, a light bite after a late night, or a luxurious breakfast in bed. Lavishly illustrated throughout with Mollie's luminous paintings, Mollie Katzen's Sunlight Café is divided into 12 chapters of breakfast fare, including yogurt and cheese, griddled foods, muffins and biscuits, eggs and tofu, whole grain cereals, homemade breakfast bars and coffee cakes, puddings and custards--and much more. In addition to showing you exactly how to make the perfect omelet or the crispiest waffles, Mollie offers irresistible recipes that range from the familiar Winter Fritata with Red Onions, Red Potatoes, and Goat Cheese, to the favorite Gingerbread Pancakes, to the surprising Basmati Almond Muffins, and on to irresistible Crispy Southwest Polenta Hash. And Mollie's energy-packed Peanut Butter Chocolate Chip Oatmeal Protein Bars are certain to become a ray of sunshine in any kitchen.
About the Author
Now a household name, author and illustrator Mollie Katzen is widely credited with bringing vegetarian cooking into the mainstream. Born in Rochester, New York, she studied at the Eastman School of Music, Cornell University and the San Francisco Art Institute, where she received a B.F.A in painting. Katzen's published her first cookbook, The Moosewood Cookbook, in 1977, which showed millions of Americans that eating healthy doesn't have to mean sacrificing taste or style. Her classic illustrated cookbooks include The Enchanted Broccoli Forest, Still Life with Menu, and Mollie Katzen's Vegetable Heaven. Katzen has also published several award-winning cookbooks for children, and is currently a featured writer and illustrator for Children's Television Workshop On-Line, as well as Sesame Street Parent's Magazine.
or
Not Currently Available for Direct Purchase