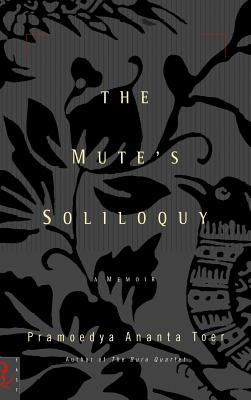 The Mute's Soliloquy (Hardcover)
Hachette Books, 9780786864164, 400pp.
Publication Date: April 28, 1999
Other Editions of This Title:
Paperback (4/1/2000)
* Individual store prices may vary.
Description
From the author of the Buru Quartet and one of the greatest writers of our time comes a remarkable memoir of imprisonment and survival.

In 1965, Pramoedya Ananta Toer was detained by Indonesian authorities and eventually exiled to the penal island of Buru. Without a formal accusation or trial, the onetime national hero was imprisoned on Buru for eleven years. He survived under brutal conditions, somehow managing to produce his masterwork, the four novels of the Buru Quartet, as well as the remarkable journal entries, essays, and letters that comprise this moving memoir.

Reminiscent of the work of Aleksandr Solzhenitsyn, The Mute's Soliloquy is a harrowing portrait of a penal colony and a heartbreaking remembrance of life before it. With a resonance far beyond its particular time and place, it is Pramoedya's crowning achievement--a passionate tribute to the freedom of the mind and a celebration of the human spirit.

"A haunting record of a great writer's attempt to keep his imagination and his humanity alive."-- The New York Times Book Review

"A story too vast and serious to ignore."-- San Francisco Chronicle (front page review)
About the Author
Pramoedya Ananta Toer is the author of more than thirty books, including The Fugitive, The Mute's Soliloquy, and The Girl from the Coast, and is published in more than thirty countries. He has been called "Indonesia's Albert Camus" (San Francisco Chronicle). The Los Angeles Times compared him to James Baldwin and Dashiell Hammett. And he is listed in the updated edition of the classic Lifetime Reading Plan among the likes of Bertolt Brecht, Graham Greene, and John Steinbeck as one of 100 authors everyone should read. He has been profiled in The New Yorker, The New York Times, and other major publications around the world. He is the recipient of numerous international literary awards (such as France's Chevalier award and the highest award in Asian letters, the Magsaysay award) and freedom-of-speech awards (such as the PEN Freedom-to-Write award and the Hellman-Hammett award). He lives outside Jakarta.