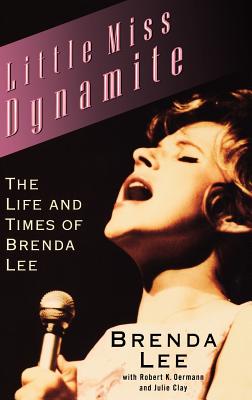 Little Miss Dynamite: The Life and Times of Brenda Lee (Hardcover)
The Life and Times of Brenda Lee
Hyperion Books, 9780786866441, 320pp.
Publication Date: March 6, 2002
Description
In this candid autobiography, Lee recounts her astonishingly dramatic life, filled with early poverty, tragic deaths, a nonexistent childhood, a controlling manager, young elopement, illnesses, barely averted financial disaster, and one of show business's most durable marriages. Brenda's life has touched some of the most legendary names in the annals of entertainment, from Elvis Presley to Elton John. It's a tumultuous life, sprinkled with humour, heartache, and hope. And yet, the real story here is that she is in many ways an everywoman.
About the Author
Brenda Lee is one of the most famous and popular female recording stars of all time. She has co-written more than a dozen songs, has writen a volume of poetry, and is the author of a popular cookbook. Brenda has recently been elected to the Board of Trustees of the National Academy of Recording Arts & Sciences. She lives in Nashville, Tennessee. Co-author Robert K. Oermann is a journalist, music historian, and television producer. He serves on the board of the Recording Academy and is editor-at-large of Country Music and a weekly columnist for Music Row. He has published more than 2,000 articles in over 100 national publications, including USA Today, Entertainment Weekly, Esquire, Us magazine, TV Guide, and The Washington Post. He has produced and/or annotated more than sixty historical reissue albums. This is his seventh book. Julie Clay is the author of the short story collection The Stars that Shine and serves as a contributing editor to several national lifestyle magazines. With an extensive background in advertising and public relations, she previously served as Executive Director of the Nashville Chapter of the National Academy of Recording Arts & Sciences. An accomplished pianist and songwriter, she is Brenda Lee's oldest daughter.
Advertisement