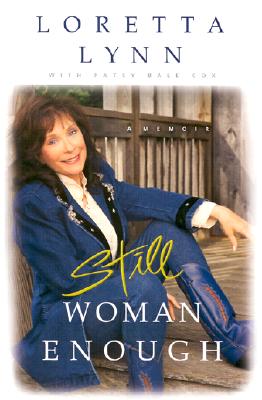 Still Woman Enough: A Memoir (Hardcover)
A Memoir
Hyperion, 9780786866502, 244pp.
Publication Date: April 1, 2002
* Individual store prices may vary.
or
Not Currently Available for Direct Purchase
Description
In this riveting follow-up to her #1
New York Times
bestselling memoir,
Coal Miner's Daughter
, Loretta Lynn continues her captivating story about triumph over the odds. Loretta Lynn's first memoir,
Coal Miner's Daughter
, was a #1 national bestseller that sparked an Oscar-winning movie and left fans hungry for more. Now Loretta finishes that story, and the second half of her life is every bit as remarkable and inspiring as the first. In a friendly, down-home style that belies her stature as country music's most celebrated performer, Loretta writes candidly about the price of fame and the stresses of stardom; tells of friends and family she's loved and lost along the way; and shares secrets not included in her first book. But at the heart of this memoir is her stormy relationship with Doo, the man she married at thirteen and stayed with until he died, through his drinking, their violent arguments, and their passionate reconciliations. Loretta reveals the devotion behind "one of the hardest love stories in the world." Filled with intimate portraits of country legends, and brimming with folksy humor, this personal tale of grit, determination, and loyalty will enthrall Loretta's countless fans and anyone who adores a good old-fashioned love story. Loretta Lynn, the most celebrated entertainer in the history of country music has a lot to sing about:
9 gold albums
A national bestselling book and film, Coal Miner's Daughter
First female artist to win the Country Music Association's Entertainer of the Year
First country artist to win the prestigious Golden Plate award given to those who excel in all fields of achievement worldwide
First female recording artist to be inducted into the Songwriters Hall of Fame
Longtime member of the Country Music Hall of Fame
One of Entertainment Weekly's 100 Entertainers for 1950-2000
One of Ladies Home Journal's 10 Most Admired Women of the World
About the Author
Loretta Lynn marked her fortieth anniversary in show business in the year 2000. A mother at fourteen, she had four children by the time she was eighteen and taught herself to play the guitar. She became a member of the Grand Ole Opry in 1963, and the following year, her first album went Number 1. She was duet partners with Ernest Tubb and the late Conway Twitty, and recorded songs both beloved and controversial (like "The Pill" and "Rated X") as a solo artist. Her first book, Coal Miner's Daughter, hit the New York Times bestseller list and became an Oscar-winning film. She continues to perform and to command a devoted audience. Loretta Lynn lives in Hurricane Mills, Tennessee. Patsi Bale Cox collaborated on the New York Times bestselling Nickel Dreams, the autobiography of Tanya Tucker, and on The View from Nashville and Fifty Years Down a Country Road with Ralph Emery. She is a member of the Grammy nominating committee in the liner note category and lives in Nashville, Tennessee.
Advertisement