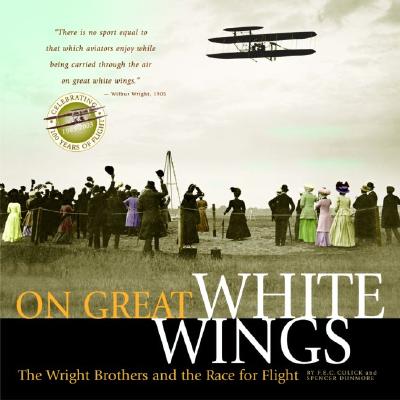 On Great White Wings: The Wright Brothers and the Race for Flight (Hardcover)
The Wright Brothers and the Race for Flight
Hyperion Books, 9780786866861, 176pp.
Publication Date: October 17, 2001
* Individual store prices may vary.
or
Not Currently Available for Direct Purchase
Description
On the eve of the hundredth anniversary of the historic events at Kitty Hawk comes a splendidly illustrated account of the legendary twelve-second flight that changed the world forever.

On December 17, 1903, Orville and Wilbur Wright took to the air for less than a minute, accomplishing what mankind had only dreamed of for centuries. Now, almost one hundred years later, this definitive account offers a unique look at the Wright Brothers' achievement, and at the many experiments that led up to their momentous ride.

Revealing the brothers' youthful interest in technology and flight, the authors recount the trials and errors of other would-be aviators, and explain how the race to be the first man aloft became an international obsession. Readers will learn how The Flyer--the Wright Brothers' original plane--was built, and how its indefatigable inventors solved the challenges that stumped their predecessors. And finally there is the historic flight itself--what went wrong and what, amazingly, went right--and the enormous impact the Wright Brothers had on their own and future generations. Written in engaging, accessible prose and, featuring more than 200 photographs and illustrations, On Great White Wings will delight anyone interested in the history of flight and in the fantastic story behind the twentieth century's most important achievement.
About the Author
Fred E. C. Culick is a leading expert in aeronautics and astronautics and is currently Richard L. and Dorothy M. Hayman Professor of Mechanical Engineering at the California Institute of Technology. He has published widely, and his articles have appeared in Scientific American and other magazines. He helped create a full-scale replica of the Wright Flyer for use in wind-tunnel testing and is now at work on a new replica that he will pilot on the hundredth anniversary of the first flight in 2003. He lives in Pasadena, California. Spencer Dunmore is the author of many books on aviation, including Bomb Run, Squadron, Final Approach, and Reap the Whirlwind, a history of the Canadian Air Force in World War II, co-written with William Carter. He has also written the naval history In Great Waters, and collaborated with Dr. Robert Ballard on Exploring the Lusitania. He lives in Burlington, Ontario.
Advertisement