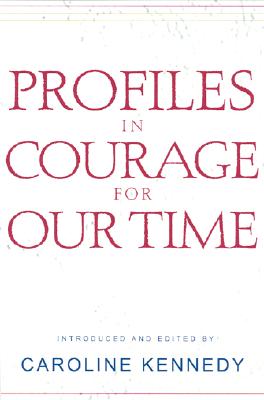 Profiles in Courage for Our Time
Hardcover

* Individual store prices may vary.
Other Editions of This Title:
Paperback (5/1/2003)
Description
In the spirit of John F. Kennedy's Pulitzer Prize-winning Profiles in Courage, 13 essays honoring modern-day political heroes, penned by a collection of stellar authors
Nearly half a century after then-Senator John F. Kennedy was awarded the Pulitzer Prize for
Profiles in Courage
, his masterful portrait of American heroes, the words "politician" and "courage" are rarely uttered in the same breath. But, as this celebration of modern political bravery amply demonstrates, there are countless examples of heroism among today's elected officials.
Profiles in Courage for Our Time
pays tribute to 13 such heroes, each a recipient of the prestigious Profile in Courage award. The essays' authors are as noteworthy as their subjects: Anna Quindlen writes about Governor James Florio's passing of the strictest gun control law in the nation; Al Hunt details Russell Feingold and John McCain's efforts to reform political financing; Bob Woodward writes on former President Gerald Ford's controversial decision of conscience to pardon former President Richard Nixon. "The Profiles in Courage Award seeks to honor those whose lives of service prove that politics can be a noble profession. We hope that Americans realize that there are men and women serving at all levels of our government who are legends of our time." -- Caroline Kennedy Renowned authors and award-winners featured in
Profiles in Courage for Our Time
:
Michael Beschloss on Carl Elliot, Sr.
Bill Kovach on Charles Weltner
E. J. Dionne on Lowell Weicker, Jr.
Anna Quindlen on James Florio
Pete Hamill on Henry Gonzalez
Steve Roberts on Michael Synar
Marian Wright Edelman on Corkin Cherubini
Maryanne Vollers on Charles Price
Ron Suskind on Nickolas C. Murnion
Michael Daly on Irish Peace Makers
Anthony Walton on Hilda Solis
Al Hunt on Russell Feingold and John McCain
Teresa Carpenter on John Lewis
Bob Woodward on Gerald Ford
Hachette Books, 9780786867936, 354pp.
Publication Date: May 1, 2002
About the Author
Caroline Kennedy is the author and editor of twelve New York Times bestselling books on American history, politics and poetry. She is also an attorney and diplomat who served as the United States Ambassador to Japan from 2013 to 2017, and the only surviving child of President John F. Kennedy and First Lady Jacqueline Bouvier Kennedy. A graduate of Harvard University and Columbia Law School, Kennedy is active in the efforts to improve New York City public schools and serves as President of the John F. Kennedy Library Foundation.
or
Not Currently Available for Direct Purchase