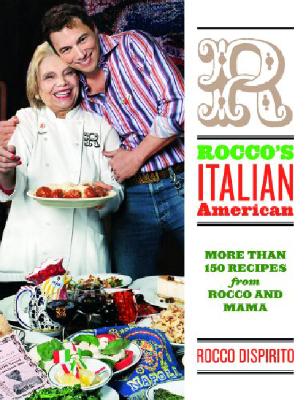 Rocco's Italian-American (Hardcover)
More Than 150 Recipes from Rocco and Mama
Hachette Books, 9780786868575, 288pp.
Publication Date: November 17, 2004
* Individual store prices may vary.
or
Not Currently Available for Direct Purchase
Description
The star of NBC's reality show
The Restaurant
dishes up the mouthwatering Italian classics that made his TV show and eateries so hot.
A delicious collection of timeless family recipes--including Mamma's Meatballs--from culinary superstar Rocco DiSpirito
Superstar chef Rocco DiSpirito made a name for himself by taking flavor where it had never gone before. But this decorated chef who blazed through the Culinary Institute of America and burst onto New York's fine dining scene--landing himself on the cover of
Gourmet
--actually honed his taste buds on the timeless Italian recipes handed down through his family for generations.
Rocco's Italian-American
lifts the lid on these age-old meals and shares their secrets, as well as the histories and family traditions that go along with them.
More than just a cookbook,
Rocco's Italian-American
is a celebration of the family recipes and experiences of one immigrant family in New York and is sure to become a classic. It is also filled with the wisdom of Rocco's Mamma, who is beloved by the millions who know her from her television appearances.
Each delicious recipe includes a personal note on the dish, a story associated with it, or a variation preferred by certain relatives. The book is organized by parts of the meal (antipasto, soup, pasta, fish, meat, salad, bread, sweets, and holiday menus). Rocco describes the techniques of the Italian-American kitchen and instructs on the indispensable ingredients, such as tomatoes, olive oil, basil, and beans. The book is lavishly illustrated with (old and new) photos and other artifacts and mementos from his family's treasure chest, including maps, handwritten recipes, and childhood drawings.
Now for the first time, Rocco shares his favorite family recipes, including:
Mamma's Meatballs
Mamma's Frittata
Sardines with Fennel and Orange
Farfalle with Grilled Sausage, Fennel, and Baby Artichoke
Rabbit Cacciatore
Red Snapper and Heirloom Tomatoes Poached in Olive Oil
Asparagus with Besciamella
Poached Cherries with Ricotta Gelato and Toasted Pandoro
About the Author
Rocco DiSpirito, chef and proprietor of Manhattan's Union Pacific and Rocco's 22nd Street restaurants, attended the Culinary Institute of America at age sixteen, then studied at the Jardin de Cynge in Paris. He worked at the Adrienne in New York; was chef de partie at Aujourd'hui in Boston; and was part of Lespinasse's opening team. In 1997, Rocco opened Union Pacific, and in 2003, he opened Rocco's 22nd Street, which was featured in the NBC series The Restaurant. His first cookbook, Flavor, won a James Beard Foundation Award. Nina Lalli is a recent graduate of Oberlin College. She was part of the opening team at Rocco's 22nd Street, where she created La Gazzetta, the daily fake newspaper on the back of the menu. Nina is a freelance writer and lives in Brooklyn, New York.
Advertisement