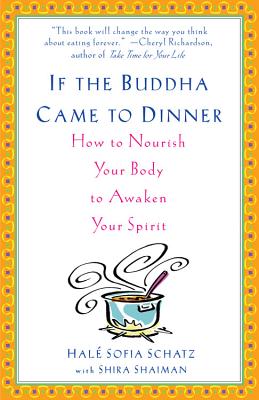 If the Buddha Came to Dinner: How to Nourish Your Body to Awaken Your Spirit (Paperback)
How to Nourish Your Body to Awaken Your Spirit
Hachette Books, 9780786868834, 320pp.
Publication Date: March 17, 2004
Description
If the Buddha came to dinner at your home, what would you serve? Fast food? A frozen meal quickly reheated in the microwave? Chances are you'd feed your honored guest a delicious meal prepared with love and care. But the next time "you" have dinner, what will you eat?
With so much processed food in the marketplace, obesity in adults and children dramatically on the rise, and digestive problems increasingly more common, it's clear that we're facing a serious food crisis in this country. The answer, however, isn't just to go on a diet. Reducing the intake of refined and processed foods and increasing whole foods certainly can improve one's health. But we need more. We need to feed ourselves with a sense of purpose, self-respect, love, and passion for our lives. We need to nourish our spirits.
Nourishment isn't a fad diet . . . it's a lifelong journey, and Hale Sofia Schatz is the ideal guide. Gentle, wise, and humorous, she shows us the way to the heart of nourishment--our own inner wisdom that knows exactly how to feed our whole self. A perfect blend of inspiration and practical suggestions, "If the Buddha Came to Dinner" includes guidelines for selecting vital foods, ideas for keeping your energy balanced throughout the day, a cleanse program, and over 60 recipes to awaken your palate.
Open this book and nurture yourself as never before. You'll be fed in a whole new way.
About the Author
Hale Sofia Schatz, nourishment educator and consultant, has cultivated the vital correlation between nourishment, health, and spiritual awareness for over 30 years. Hale presents her nourishment training programs in academic, corporate, and public settings. She lives in the Boston area with her family. For more information about Hale's work, please visit www.halesofiaschatz.com. Shira Shaiman is a freelance writer. She lives in Cambridge, Massachusetts."
Advertisement