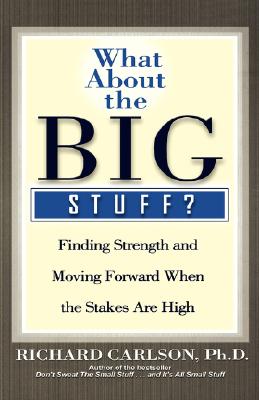 What About the Big Stuff? (Hardcover)
Finding Strength and Moving Forward When the Stakes Are High
Hachette Books, 9780786868841, 294pp.
Publication Date: October 8, 2002
Other Editions of This Title:
Paperback (9/17/2003)
Audio cassette (10/1/2002)
* Individual store prices may vary.
Description
With more than 21 million copies in print, Richard Carlson's bestselling Don't Sweat series has shown countless families, lovers, and workers how not to sweat the small stuff. Now, in his soothing and wise trademark tone, Carlson takes a different approach and discusses life's bigger issues, including dealing with the death of a loved one; how divorce affects your family and friends; confronting illness, whether in yourself or others; and managing difficult financial situations. In chapters such as 'Bouncing Back from Divorce,' 'Finding Life After Death,' and 'Feel Free to Grieve,' Carlson offers healing insight and heartfelt advice on how to find inner peace and strength to deal with the big stuff.
Don't Sweat the Big Stuff, but instead:
Learn from the Big Stuff
Grieve Freely
Ask Yourself the Question, 'Will This Matter a Year from Now?'
Reflect on What You're Going to Want to Say--Before You Need to Say It
Prepare and Let Go
About the Author
Richard Carlson, Ph.D., was the author of the bestselling Don't Sweat the Small Stuff series. He passed away in 2006.