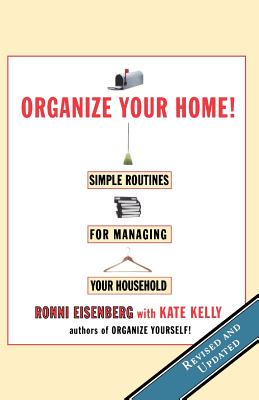 Organize Your Home: Revised Simple Routines for Managing Your Household (Paperback)
Revised Simple Routines for Managing Your Household
Hyperion Books, 9780786883820, 192pp.
Publication Date: January 1, 1999
Description
Ronni Eisenberg, author of the popular but slightly more intimidating Organize Yourself , has deconstructed the potentially hair-raising projects of getting the house in order: organizing closet space, filing household documents (do you know for sure if junior needs a tetanus shot anytime soon?), finagling some counter space in the kitchen, and even keeping photo negatives from seeming to multiply like rabbits and threatening to overtake the living room. Eisenberg reveals how to trim daunting tasks (like clearing up the garage) into manageable chunks.
If you're frazzled with worry about what sort of critters may be nesting in your attic, or have gone 15,000 miles without an oil change, or find yourself at the checkout of the grocery store grappling to find that Cheerios coupon that you know you stuffed in your wallet, only to find it two months later in the back of kitchen junk drawer, sadly expired, this book's for you.
About the Author
Ronni Eisenberg, author of Organize Yourself! and other titles in the series, has given a multitude of workshops, lectures, and demonstrations across the country on how to get organized. She lives in Westport, Connecticut, with her husband and three children. Kate Kelly is a professional writer who owns and operates her own publishing business. She lives in Westchester County, New York, with her husband and three children.
Advertisement