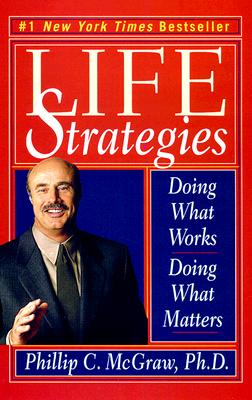 Life Strategies: Doing What Works, Doing What Matters (Paperback)
Doing What Works, Doing What Matters
Hyperion, 9780786884599, 320pp.
Publication Date: January 1, 2000
* Individual store prices may vary.
or
Not Currently Available for Direct Purchase
Description
Some people spend their lives reacting to what life hands them, while others craft life to fit their goals. Author Phillip C. McGraw, who is a psychologist but describes himself as a strategist, is determined to make sure that his readers are the creators of their lives, not created by their lives. By accepting that you are personally accountable for every element of your life, McGraw says, you can erase the negative "epidemic behaviors" (found in all of American society: denial, false assumptions, inertia, deceptive masking) in your life and reach your goals.Written in a tough-love, sometimes cantankerous tone, this self-help book is not for those looking to explore their inner child or visualize away negative energy. No, this is pull-yourself-up-by-the-bootstraps advice from someone who's done just that. McGraw opens with a scene describing how he helped Oprah Winfrey survive--and win--the 1998 "Mad Cow" lawsuit in Texas, when she was having difficulty coping with the reality of what was happening to her. He helped her face the facts about the lawsuit, after which she was better able to participate in crafting a strategy to win it. McGraw first forces you to take a good hard look at who you are by dissecting your personality. It may be painful to realize that you fall into the "Porcupine" or "Perfecto" or any of the other personality types McGraw delineates, but here it's true that there's no gain without pain, because (Life Law No. 4) "You Can't Change What You Don't Acknowledge." He then describes in depth all 10 "Life Laws"--the rules by which the world plays--that he learned the hard way. Laws such as "You Either Get It, or You Don't," "Life Is Managed; It Is Not Cured," and "You Have to Name It to Claim It" make up the bulk of the book and McGraw's realist philosophy. If you learn and abide by the Life Laws and go on to create a Life Strategy, McGraw claims you will not only know yourself better and eliminate negative behaviors, you will also know how to reach any goal you set for yourself. --Stefanie Durbin.
About the Author
Dr. Phil McGraw is the author of five #1 New York Times bestsellers: Life Strategies: Doing What Works, Doing What Matters; Relationship Rescue: A Seven-Step Strategy for Reconnecting with Your Partner; Self Matters: Creating Your Life From the Inside Out; The Ultimate Weight Solution: The Seven Keys to Weight Loss Freedom, and his most recent book, Family First: Your Step-by-Step Plan for Creating a Phenomenal Family. He is also the author of the New York Times bestseller The Ultimate Weight Solution Coookbook: Recipes For Weight Loss Freedom as well as The Ultimate Weight Solution Food Guide. His books have been published in 37 languages with over 22 million copies in print. Dr. Phil has a B.S, M.A. and Ph.D. in clinical psychology from North Texas State University with a dual area of emphasis in clinical and behavioral medicine. He has been a board-certified and licensed clinical psychologist since 1978, and appears on his nationally syndicated daily one-hour series, Dr. Phil. He lives in Los Angeles with Robin, his wife of 28 years, and their two sons, Jay and Jordan.
Advertisement