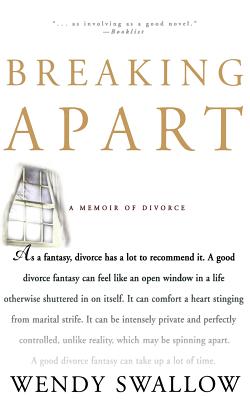 Breaking Apart (Paperback)
A Memoir of Divorce
Hachette Books, 9780786885169, 292pp.
Publication Date: May 22, 2002
* Individual store prices may vary.
Description
Now in paperback, this "courageous story, beautifully told" [Washington Post] offers a searing examination of a marriage coming apart piece by piece.

"There are those who believe it is simple selfishness that leads people to divorce. For those of us who have lived it, it's hard to see why anyone would rip out their veins for some immature or narcissistic desire to get what they want, because that is what it feels like." --from Breaking Apart

Piercingly honest and profoundly moving, Wendy Swallow's memoir traces the arc of her marriage and its painful disintegration. Her journey through divorce's rough terrain--and the reconstruction of her life after divorce--offers an electrifying literary portrait of what it is to relinquish the comfort and security of a long-held dream.
About the Author
A former staff writer for the Washington Post, Wendy Swallow is currently a journalism professor at American University and a freelance writer. A divorced mother of two, Swallow lives in Kensington, Maryland, outside of Washington, D.C.