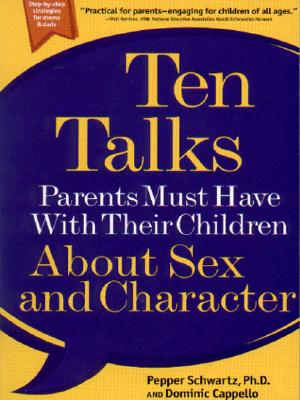 Ten Talks Parents Must Have With Their Children About Sex and Character (Paperback)
Hachette Books, 9780786885480, 288pp.
Publication Date: October 18, 2000
* Individual store prices may vary.
Description
Everyone agrees parents must talk to their children about sex, but the questions always arise: How do I start? What should I cover? Ten Talks offers advice on exactly how to begin and what to say--not just about sex, but about safety, character, peer pressure, ethics, meeting people on the internet, and mixed messages from TV. Ten Talks is based on innovative and proven approaches that the authors are using in parent workshops across the country. The talks can be adapted for all kinds of families and offer immeasurable rewards, strengthening the relationships of parents and children. This innovative and illustrated book helps prepare kids for the complex world of relationships, sex, and growing up.
About the Author
Pepper Schwartz, Ph.D., is a professor of sociology at the University of Washington in Seattle. She is past president of the Society for the Study of Sexuality and a charter member of the International Academy of Sex Research. She has authored or co-authored twelve books, writes several magazine and web columns, and also appears on Lifetime Television. She lives in Washington State with her husband and two teenage children. Dominic Cappello is a nationally recognized designer of parent-child communication programs and the creator of the National Education Association's "Can We Talk?" Parent Education Programs. He is a policy advocate on school violence and harassment prevention and the author of Ten Talks Parents Must Have with Their Children About Violence. He lives in New York City.