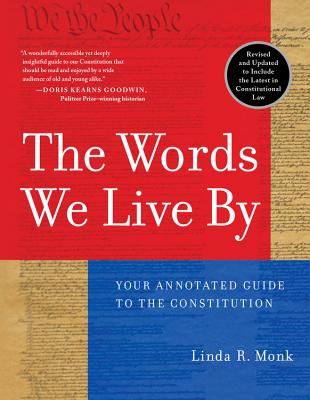 The Words We Live By (Paperback)
Your Annotated Guide to the Constitution
Hachette Books, 9780786886203, 304pp.
Publication Date: February 18, 2004
Other Editions of This Title:
Digital Audiobook (8/10/2015)
Hardcover (2/12/2003)
Prebound (2/18/2004)
Pre-Recorded Audio Player (8/11/2015)
* Individual store prices may vary.
Description
UPDATED FOR THE FIRST TIME IN 10 YEARS, The Words We Live By takes an entertaining and informative look at America's most important historical document, now with discussions about new rulings on hot-button issues such as immigration, gay marriage, the right to bear arms, and affirmative action.

In The Words We Live By, award-winning author and journalist Linda R. Monk explores the many interpretations of the Constitution's text in a balanced manner. The Words We Live By presents a new way of looking at the Constitution through entertaining and informative annotations--filled with the stories of the people behind the Supreme Court cases and historical perspective, along with enough surprises and fascinating facts and illustrations to prove that the Constitution is every bit as relevant today as it was in 1787.
About the Author
Linda R. Monk, J.D., is a constitutional scholar, journalist, and nationally award-winning author. A graduate of Harvard Law School, she twice received the American Bar Association's Silver Gavel Award, its highest honor for law-related media. She served as Series Advisor for the PBS documentary Constitution USA, and she has appeared on MSNBC, C-SPAN, and NPR. For more than 25 years, Monk has written commentary for the New York Times, Washington Post, Los Angeles Times, and Chicago Tribune. She served as a Visiting Scholar at the National Constitution Center in Philadelphia, the Lead Curator for the McCormick Tribune Freedom Museum in Chicago, and a consultant to the Newseum in Washington, D.C. She has served on the Board of Trustees for the U.S. Capitol Historical Society and the Jamestown-Yorktown Foundation and conducted seminars for such groups as the Pentagon, Fulbright Scholars, National Archives, Smithsonian Institution, George Washington's Mount Vernon, and National History Day.
Praise For The Words We Live By: Your Annotated Guide to the Constitution…
"A wonderfully accessible yet deeply insightful guide to our Constitution that should be read and enjoyed by a wide audience of old and young alike."—
Doris Kearns Goodwin, Pulitzer Prize-winning historian
"I have never before seen so clear an explanation of what's in the Constitution and why. Monk has provided a service to the nation that should earn her a Presidential Medal of Freedom."—
Nat Hentoff, Pulitzer Prize finalist and Senior Fellow, Cato Institute
"A book for 'We the People' of all ages--wonderfully simple but never simplistic, brimming with profound and provocative ideas."—
Akhil Reed Amar, Sterling Professor of Law and Political Science, Yale University
"Finally, a book that presents all sides of constitutional issues."
—
Linda Chavez, Chairman of the Center for Equal Opportunity and FOX News Channel contributor
"Linda Monk takes us on a lively and learned exploration of the document that underlies not only how we Americans govern ourselves but how we make sense of the world. Anyone reading
The Words We Live By
will finish it with a greater understanding of the Constitution and a new respect for how it has secured freedom and self-government for the last two centuries."—
Steve Chapman, syndicated columnist, Chicago Tribune
"[Linda Monk] captures just the right blend of history and current events to help us understand why the Constitution is America's cornerstone of freedom."—
Charles Overby, Pulitzer Prize-winning newspaper editor and Chairman of the Overby Center of Southern Journalism and Politics
"When I covered federal courts in Washington at the foot of Capitol Hill, I read
The Words We Live By
all the time. When I stopped covering the courts, I still read it all the time. Smart, informed, witty--just the way everyone wants to sound when discussing the Constitution."—
Neely Tucker, staff writer, Washington Post
"The U.S. Constitution gets a comprehensive overview in this engaging blend of history and commentary. Monk . . . traces the history and consequences of each part of this vital document in a line-by-line analysis of the original seven articles and the 27 amendments. She also gives even-handed but lively accounts of the debates over such Constitutional controversies as the right to bear arms, the right to privacy, church-state separation, and capital punishment."—
Citation for Chief of Staff of the Air Force 2012 Reading List
"This volume ought to be required reading for every American young and old."—
Governor William Winter, Chairman Emeritus of the Winter Institute for Racial Reconciliation
"For
a fine guide to the full context of today's Constitution, read
The Words We Live By: Your Annotated Guide to the
Constitution
by the scholar Linda R. Monk, which labors to provide
inclusive context, including materials on "outsiders" to the Constitution such
as Native American people."—
The Atlantic