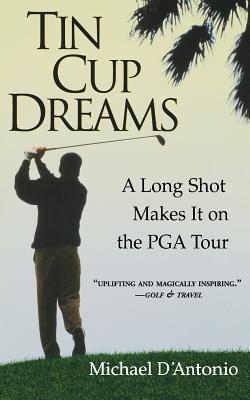 Tin Cup Dreams
A Long Shot Makes It on the PGA Tour
Paperback

* Individual store prices may vary.
Description
Now available in paperback, Tin Cup Dreams is the remarkable odyssey of self-taught golfer Esteban Toledo, a former boxer who overcame poverty and the wrong side of the tracks to make it through Q School and a make-or-break season on the PGA Tour. With uncommon grit and determination, Toledo finally triumphs after a 12 year quest that took him to the depths of despair.

Pulitzer Prize-winning journalist Michael D'Antonio gives a rare behind-the-scenes look at the PGA Tour while keeping readers on the edge of their seats with his chronicle of Toledo's struggles. Traditionally, golf was a dreamer's path to glory. Tin Cup Dreams shows that it still is.
Hachette Books, 9780786886470, 304pp.
Publication Date: May 9, 2001
About the Author
Michael D'Antonio shared the Pulitzer Prize in journalism as part of a Newsday reporting team. He has written three acclaimed non-fiction books and countless articles for GOLF Magazine, The New York Times Magazine, Esquire, Elle, Redbook, McCall's, and The LA Times Magazine. He is a lifelong golfer whose first paying job was as a caddie at a summer resort in New Hampshire. D'Antonio lives with his family in New York State.