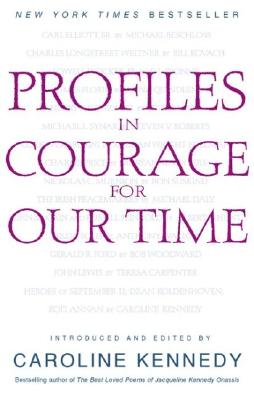 Profiles in Courage for Our Time (Paperback)
Hyperion Books, 9780786886784, 374pp.
Publication Date: May 1, 2003
Description
Nearly half a century after then-Senator John F. Kennedy was awarded the Pulitzer Prize for Profiles in Courage, the Kennedy family continues to keep alive the tradition of honoring selfless public service with its Profiles in Courage Award. Now in paperback, Profiles in Courage for Our Time pays tribute to 13 such heroes in the same spirit as the original collection. Some of our greatest writers have brought their formidable talents to this celebration of modern political bravery including Michael Beschloss, Anna Quindlen, Bob Woodward, and Marian Wright Edelman. Also included is Caroline Kennedy's profile of the latest award recipient, Kofi Annan. These are just a few of the luminaries who eloquently and passionately record the experiences of the award winners. This celebration of modern political bravery demonstrates that heroism among today's elected officials is as possible and inspiring as ever. "The Profiles in Courage Award seeks to honor those whose lives of service prove that politics can be a noble profession. We hope that Americans realize that there are men and women serving at all levels of our government who are legends of our time." --Caroline Kennedy.
About the Author
Caroline Kennedy is the editor of the New York Times bestselling A Patriot's Handbook, Profiles in Courage for Our Time, The Best-Loved Poems of Jacqueline Kennedy Onassis, A Family of Poems, and the coauthor of The Right to Privacy and In Our Defense: The Bill of Rights in Action. She serves as the Vice Chair of the Fund for Public Schools in New York City and President of the John F. Kennedy Library Foundation. She lives in New York City.
Advertisement