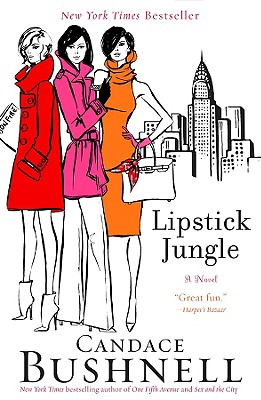 Lipstick Jungle (Paperback)
Hyperion Books, 9780786887071, 480pp.
Publication Date: August 1, 2006
* Individual store prices may vary.
or
Not Currently Available for Direct Purchase
Description
It's a jungle out there. Dress accordingly. In her fourth book, Candace Bushnell brings readers close to three powerful New York City women, each at the top of her field, each navigating her way through work, relationships, success, and scandal. Nico O'Neilly is the ultimate executive-glamorous and always in control--until her marriage loses steam, and she is tempted to find refuge in the arms of a younger man. Wendy Healy, president of Parador Pictures and mother of three children, may not be able to save her most important production--her family. And Victory Ford, a wildly successful fashion designer and girlfriend of a billionaire, begins to question love and money--why shouldn't a woman be as rich as a man?
About the Author
Candace Bushnell is the author of Sex and the City, Four Blondes, and Trading Up. She has been a columnist for The New York Observer and a contributing editor to Vogue.
Praise For Lipstick Jungle…
"Line up the watermelon cosmos and get ready to be consumed by the swank, successful, and super-spunky 40-something protagonists of Candace Bushnell's lip-smacking new novel."—New York Post

"Bushnell proves she's still the philosopher-queen of a social scene."—New York Times Book Review

"A seductive, humorous tale about strong, powerful women."—OK! Magazine
Much of Bushnell's previous work is about a woman's quest to find and keep a man. But Lipstick Jungle focuses instead on the quest for power and success. What do you think of this decision? Does this book send a new type of message? What is it?
If you could have the life of Victory, Wendy, or Nico, which would you choose? Do you admire one of these characters more than the others? Why?
Would you ever consider Candace Bushnell a feminist? Why or why not?
What role does marriage play in the lives of these women? Does it help or hurt them? Or both?
What do you think about the men in this book? Are they characters or caricatures?
Advertisement