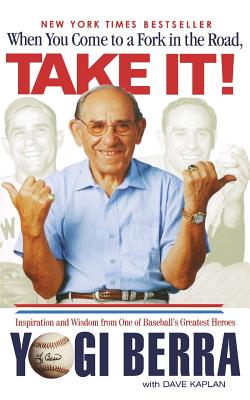 When You Come to a Fork in the Road, Take It!: Inspiration and Wisdom from One of Baseball's Greatest Heros (Paperback)
Inspiration and Wisdom from One of Baseball's Greatest Heros
Hyperion Books, 9780786887446, 176pp.
Publication Date: May 22, 2002
Description
Yogi Berra (1925-2015), a fifteen-time Major League Baseball All Star, played on a record ten World Series champion teams for the New York Yankees. Off the field, Berra's wit and humor made him "one of the most universally beloved figures in American life" (Washington Post).
In When You Come to a Fork in the Road, Take It , Berra provides his inspiring, funny, and surprisingly moving thoughts on life, happiness and getting through slumps. From "It ain't over til it's over" (persistence) and "A nickel aunt worth a dime anymore" (teaching kids the value of money), these essays illustrate how the rules of life and baseball are uncannily similar. The book is a joyful, insightful legacy of "baseball's greatest catcher" (Wall Street Journal) and an "American treasure" (Fox Sports).
About the Author
Yogi Berra transformed himself from barefoot sandlotter into one of the greatest catchers and clutch hitters in the history of the game. He anchored the New York Yankees' dynasty from the late 1940s to early '60s, becoming a 18-time All-Star, winner of 10 world championships (most in baseball history) and three-time Most Valuable Player along the way. He was elected to the Hall of Fame in 1972 and was a member of Major League Baseball's All-Century Team. As a manager with both New York teams, he became the first man in over 40 years to win pennants in different leagues (Yankees in 1964, Mets in 1973). Dave Kaplan is the founding director of the Yogi Berra Museum and Learning Center, a nonprofit sports education center founded in 1998 on the campus of Montclair State University in New Jersey.
Advertisement