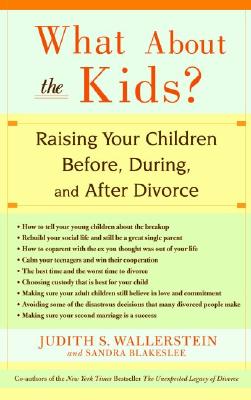 What about the Kids?: Raising Your Children Before, During, and After Divorce (Paperback)
Raising Your Children Before, During, and After Divorce
Hachette Books, 9780786887514, 400pp.
Publication Date: March 17, 2004
Description
Now in paperback--a groundbreaking guide that tells parents how to help their children at the time of the breakup and in the many years that follow within the post-divorce and remarried family--from the
New York Times
bestselling author of
The Unexpected Legacy of Divorce
.
In the tradition of the best parenting guidebooks comes a new work by the renowned child psychologist Judith Wallerstein on a subject that vexes millions of American moms and dads: How can you genuinely protect your children during and after divorce? Wallerstein answers this important question based on 30 years of in-depth interviews with children of divorce and their parents.
Divorce is not a single event but a lifelong trajectory of changed circumstances that demand a different kind of parenting than we have ever known. In
What About the Kids?
Wallerstein shows parents how to create a new family with compassion and wisdom. It covers issues that arise at the time of divorce as well as suggestions for talking to your children months and years after the event.
Eminent psychologist Judith S. Wallerstein shares her unique insight and advice in
What About the Kids?
--the first comprehensive guide to easing the impact of divorce on your children--including:
The best and worst ages for children to experience their parents' divorce
Right and wrong ways to explain divorce to your children
Choosing a custody arrangement that's best for your child
How to involve the grandparents--a major resource?
Getting the children on your side when you form new relationships
The positive effects of divorce on children (believe it or not)
How divorce can actually make you a better parent
Raising children who grow up able to form lasting relationships
About the Author
Judith S. Wallerstein is the founder and executive director of the Center for the Family in Transition. She is senior lecturer emerita at the School of Social Welfare at the University of California at Berkeley, where she has taught for twenty-six years. She has spoken with more divorced families than anyone in the nation, and lectured to thousands of family court judges, attorneys, mental health professionals, mediators, and educators. She has appeared on Oprah, the Today show, and Good Morning America, among others. She is the author, with Sandra Blakeslee, of the national bestsellers The Good Marriage: How and Why Love Lasts and Second Chances: Men, Women, and Children a Decade After Divorce; with Blakeslee and Julia M. Lewis of the bestseller The Unexpected Legacy of Divorce: A 25-Year Landmark Study; and, with Dr. Joan Berlin Kelly, of Surviving the Breakup: How Children and Parents Cope with Divorce. She lives in Belvedere, California. Sandra Blakeslee is an award-winning science writer who contributes regularly to the New York Times. She lives in Santa Fe, New Mexico.
Advertisement