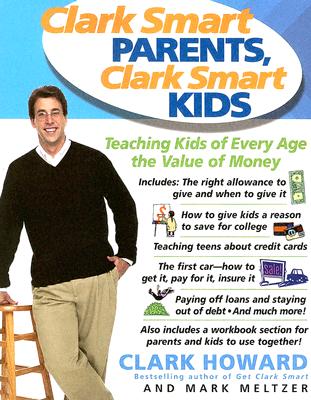 Clark Smart Parents, Clark Smart Kids
Teaching Kids of Every Age the Value of Money
Paperback

* Individual store prices may vary.
Description
From the bestselling author of Get Clark Smart comes this valuable new resource, enabling parents to pass 'Clark Smart' skills for saving and spending wisely on to kids of every age Clark Howard--bestselling author, money-saving expert, and host of the popular syndicated radio program The Clark Howard Show--is back with more of his winning financial wisdom, this time aimed at helping parents teach kids real-world financial skills for today and every day. Parents of children of all ages--from elementary school through high school, college, and beyond--will benefit from Clark's sound, uncomplicated advice across a comprehensive range of topics. In Clark Smart Parents, Clark Smart Kids, he addresses everything from allowances--when and how much to give--to teaching teens about credit cards and navigating the purchase of a first car--how to get it, pay for it, and insure it--to saving for college, paying off loans, staying out of debt, and much more!
Hachette Books, 9780786887798, 208pp.
Publication Date: May 11, 2005
About the Author
Clark Howard is the host of The Clark Howard Show, a radio talk show syndicated in more than ninety cities around the country. He is also a featured commentator on WSB-TV in Atlanta and a columnist with the Atlanta Journal Constitution. Mark Meltzer is an editor at the Atlanta Business Chronicle. Both authors reside in Atlanta.