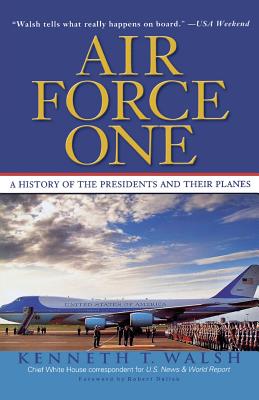 Air Force One: A History of the Presidents and Their Planes (Paperback)
A History of the Presidents and Their Planes
Hyperion Books, 9780786888191, 288pp.
Publication Date: May 12, 2004
Description
Now in paperback, this definitive history of Air Force One by the award-winning chief White House correspondent for U.S. News & World Report is a "marvelous book brimming with unforgettable anecdotes" (David Brinkley).
From FDR's prop-driven Pan Am to the glimmering blue-and-white jumbo 747 on which George W. Bush travels, the president's plane has captured the public's awe and imagination and is recognized around the world as a symbol of American power. In this unique book, Air Force One is revealed as a very special habitat that functions as an invaluable window on each of the presidents who occupy it.
Based on interviews with five living presidents, scores of past and present government officials, and staff and crew members of Air Force One, Walsh's book features countless fascinating and often outrageous stories of life aboard the "flying White House.
About the Author
Kenneth T. Walsh has covered the White House since 1986 and has won the two most prestigious honors for reporting on the presidency. He is also the former president of the White House Correspondents' Association. The author of two books, Ronald Reagan and Feeding the Beast, he has served as adjunct professor of communication at American University in Washington, D.C., and is often a guest on MSNBC, Fox News, and other television and radio programs. He lives in Bethesda, Maryland.
Advertisement