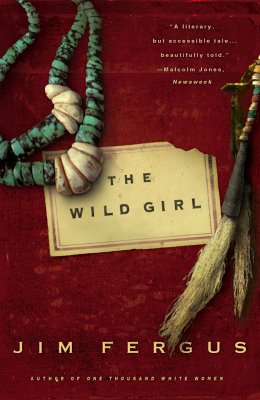 The Wild Girl
The Notebooks of Ned Giles, 1932
Paperback

* Individual store prices may vary.
Other Editions of This Title:
Digital Audiobook (3/31/2007)
Hardcover (5/4/2005)
Compact Disc (4/1/2005)
Description
From the award-winning author of One Thousand White Women, a novel in the tradition of Little Big Man, tracing one man's search for adventure and the wild Apache girl who invites him into her world

When Ned Giles is orphaned as a teenager, he heads West, hoping to leave his troubles behind. He joins the 1932 Great Apache Expedition on their search for a young boy, the son of a wealthy Mexican landowner, who was kidnapped by wild Apaches. But the expedition's goal is complicated when they encounter a wild Apache girl in a Mexican jail cell, victim of a Mexican massacre of her tribe that has left her orphaned and unwilling to eat or speak. As he and the expedition make their way through the rugged Sierra Madre mountains, Ned's growing feelings for the troubled girl soon force him to choose allegiances and make a decision that will haunt him forever.

In this novel based on historical fact, Jim Fergus takes readers on a journey of magnificent sweep and heartbreaking consequence peopled with unforgettable characters. With prose so vivid that the road dust practically rises off the page, The Wild Girl is an epic novel filled with drama, peril, and romance, told by a master. This is the novel your reading group will be talking about long past your discussion!
Hachette Books, 9780786888658, 368pp.
Publication Date: April 4, 2006
About the Author
Jim Fergus has been a freelance journalist for twenty-five years. His work has appeared in a wide variety of national magazines and newspapers and he is the author of two nonfiction books, A Hunter's Road and The Sporting Road. His first novel, One Thousand White Women, published in 1998, won the Mountains and Plains Booksellers Association fiction award.
Is setting crucial to this story? How does Jim Fergus create the setting for us? What images or landscapes of the West and/or Mexico are most vivid in your mind?
This book is fiction based on historical fact. What did you learn about History from this book? What was familiar? Was the era—the 1930s —believable?
What do you think of Fergus' narrative framing device—starting and ending the tale in the present? What does it add to the story?
Name the different narrative voices in the book. Do you like the way the author jumps into different narrations? Does it work?
Charley is white, but is a respected member of the Apaches; the Huerta boy is Mexican but treated as an Apache child. What does it mean, then, to be an Apache? How does the "creed" of the Apaches transcend race? Can anyone become an Apache?
What do you think happened to Margaret after she sent the letter to Ned? In the end, did she achieve all she set out to do?
Does Jim Fergus write convincingly in the voice of female characters? How difficult it is as a writer to refrain from imposing your own expe­riences and thoughts through your characters?
Think of the men in positions of power: Chief Gatlin, Colonel Car­rillo, Billy Flowers, Charley, and Indio Juan. What do they have in common? Which of the five is the best leader and why?
Mag and Tolley are both somewhat "outsiders" on the expedition. What unique challenges do they face? How do they individually deal with those challenges? Does Tolley change in the course of the story?
Ned's photograph of La Nina Bronca serves as a time capsule of sorts. Discuss this, and how art functions in the study of history.
Ned is able to separate himself from his camera, and as a result, his photographs tell their own version of the story. What in your life — a hobby, an artistic talent — allows you to do the same thing? Why is this important?
Did the author's note and the bibliography lead you to want to learn more about this period in Native American history? What about other historical novels? Do they inspire you to learn more about the real life characters?