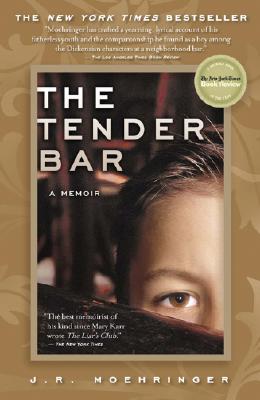 The Tender Bar
A Memoir
Paperback

* Individual store prices may vary.
Other Editions of This Title:
Compact Disc (9/5/2017)
Description
The New York Times bestseller and one of the 100 Most Notable Books of 2005. In the tradition of This Boy's Life and The Liar's Club, a raucous, poignant, luminously written memoir about a boy striving to become a man, and his romance with a bar.

J.R. Moehringer grew up captivated by a voice. It was the voice of his father, a New York City disc jockey who vanished before J.R. spoke his first word. Sitting on the stoop, pressing an ear to the radio, J.R. would strain to hear in that plummy baritone the secrets of masculinity and identity. Though J.R.'s mother was his world, his rock, he craved something more, something faintly and hauntingly audible only in The Voice.

At eight years old, suddenly unable to find The Voice on the radio, J.R. turned in desperation to the bar on the corner, where he found a rousing chorus of new voices. The alphas along the bar--including J.R.'s Uncle Charlie, a Humphrey Bogart look-alike; Colt, a Yogi Bear sound-alike; and Joey D, a softhearted brawler--took J.R. to the beach, to ballgames, and ultimately into their circle. They taught J.R., tended him, and provided a kind of fathering-by-committee. Torn between the stirring example of his mother and the lurid romance of the bar, J.R. tried to forge a self somewhere in the center. But when it was time for J.R. to leave home, the bar became an increasingly seductive sanctuary, a place to return and regroup during his picaresque journeys. Time and again the bar offered shelter from failure, rejection, heartbreak--and eventually from reality.

In the grand tradition of landmark memoirs, The Tender Bar is suspenseful, wrenching, and achingly funny. A classic American story of self-invention and escape, of the fierce love between a single mother and an only son, it's also a moving portrait of one boy's struggle to become a man, and an unforgettable depiction of how men remain, at heart, lost boys.
Hachette Books, 9780786888764, 432pp.
Publication Date: August 1, 2006
About the Author
J.R. Moehringer, winner of the Pulitzer Prize for feature writing in 2000, is a staff writer for the Los Angeles Times Sunday Magazine, and a former Nieman Fellow at Harvard University. He lives in Denver.
J.R. has a difficult childhood, but there are also many positive elements. Compare Moehringer's portrait of childhood to other memoirs you've read.
There are various portrayals of "good" and "bad" men in the memoir. What are the different definitions of goodness in men?
In what ways is alcohol both a positive and a negative factor in the lives of the various characters?
Do you think J.R.'s mother's experiences are representative of the struggles of many single mothers? Do you think she is a strong character? Did you admire her, or empathize with her?
Did you find J.R.'s grandmother a sympathetic character? Did her dilemma feel familiar to you?
J.R.'s grandfather is cruel most of the time, but he has occasional moments of greatness, such as at J.R.'s school breakfast. What do you think motivated J.R.'s grandfather? Did you find him likable?
J.R. grows up without a present father. How do you think his search for a masculine identity compares to that of men who grew up with fathers—good or bad—which were more present in their lives?
The men along the bar are depicted warts and all—did you consider them positive role models? Which of the men was most appealing to you, and why?
J.R. notices that the men in the bar have conflicting attitudes toward success in other men. What does this stem from? Was it familiar to you?
Consider the importance of sports in men's lives and relationships with each other.
In what ways do characters and circumstances in The Tender Bar resemble that of The Great Gatsby, particularly with respect to class and aspiration?
In what ways was J.R.'s enormous ambition a positive element in his life, and in what ways was it the source of pain? Is this inevitable?
Did you find Sidney sympathetic?
How does the way the events of the epilogue tied together the themes of the memoir? Did you feel resolution? Did you think J.R. had changed?
Did you see yourself and any of your own experiences as a parent, child, man or woman in the memoir?