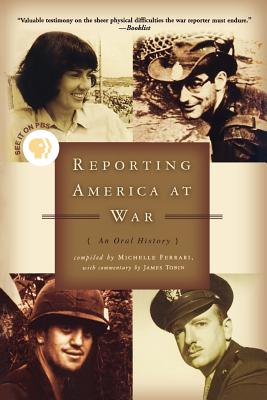 Reporting America at War: An Oral History (Paperback)
An Oral History
Hyperion Books, 9780786888856, 241pp.
Publication Date: October 1, 2004
Description
Now available in paperback--as seen on PBS, America's greatest and most influential combat journalists tell their own harrowing and revealing stories about the experience of covering war.
At the turning points of modern American history, from the beaches of Normandy to the jungles of Southeast Asia, war correspondents have served as our eyes and ears--sometimes even as our conscience. Courageous and controversial, they have captured war in all its brutality, folly, and drama. In the process, they have both reflected and altered America's sense of itself.
In this unique book--which covers all of our nation's major conflicts from World War II to the present--personal tales intermingle with explorations of such critical issues as censorship, propaganda, press ethics, and the press's relationship with the Pentagon, both before and after the terrorist attacks of September 11, 2001. Together, they form a vivid and illuminating account that is essential reading for all who seek to understand the nature of war and how we learn about it.
About the Author
Michelle Ferrari, writer of the PBS series Reporting America at War, has been creating innovative and critically acclaimed documentary narratives for more than a decade. She was the writer of the PBS special Out of the Past and the American Experience documentary Seabiscuit, which earned her a 2003 Primetime Emmy nomination. Her work also has been seen on HBO and Cinemax, and has received honors from the Writers Guild of America, the Robert F. Kennedy Journalism Awards, and film festivals nationwide. She lives in New York City. James Tobin won the National Book Critics Circle Award for Ernie Pyle's War: America's Eyewitness to World War II. His most recent book is To Conquer the Air: The Wright Brothers and the Great Race for Flight. He lives in Ann Arbor, Michigan.
Advertisement