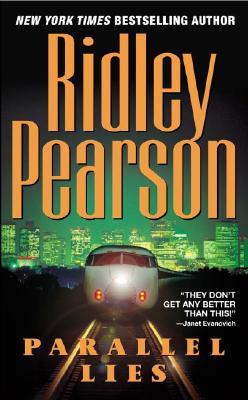 Parallel Lies
Mass Market

* Individual store prices may vary.
Other Editions of This Title:
Compact Disc (9/29/2015)
MP3 CD (1/27/2015)
Compact Disc (3/9/2010)
Compact Disc (3/9/2010)
MP3 CD (9/25/2005)
Description
Penzler Pick, June 2001: Ridley Pearson, who has written 14 previous books, many of them featuring his Seattle cop Lou Boldt, ups the ante in his latest thriller. Northern Union Railroad has been experiencing a series of accidents with their freight trains, but it is not until they find a freight car covered with blood that they call in outside help. Peter Tyler used to be a cop, until he nearly beat a black man to death and lost his badge. When he gets a second chance via an old friend at the National Transportation Safety Board, he drives a convertible through a snowstorm with the top down (he suffers from claustrophobia) to view the freight car. He arrives at the scene to discover that he will have to deal with Northern Union's own security officer, Nell Priest, a black woman who already knows Tyler's history. Meanwhile, Umberto Alvarez, the train wrecker, is systematically working his way towards his ultimate wreck, Northern's F.A.S.T. train, due to make its maiden run from New York to Washington, D.C. Alvarez lost his wife and children when their car stalled between the gates at a crossing and were crushed by one of Northern's trains. Although Northern Union was cleared of all responsibility and Alvarez's wife was found negligent, he doesn't think that's so. As Peter Tyler's investigation proceeds, he begins to come to the same conclusion. Closing in on Alvarez, he tries to interview the crossing guard who was on duty the day the wreck occurred. On arriving at the man's apartment, he finds the man bludgeoned to death--with the same stick with which Tyler beat the black man all that time ago. It's time to get paranoid. Who at Northern is covering up and what role does Nell play in all this? As always in a Ridley Pearson thriller, the action doesn't stop until the final page. --Otto Penzler
Hachette Books, 9780786889617, 384pp.
Publication Date: July 1, 2002
About the Author
Ridley Pearson is the award-winning co-author, along with Dave Barry, of Peter and the Starcatchers, Peter and the Shadow Thieves, Peter and the Secret of Rundoon, Peter and the Sword of Mercy, Escape From the Carnivale, Cave of the Dark Wind, Blood Tide, and Science Fair. In addition to Kingdom Keepers: Disney After Dark, Kingdom Keepers: Disney at Dawn, Kingdom Keepers: Disney in Shadow, and Kingdom Keepers: Power Play, he is also the author of the young adult thrillers Steel Trapp: The Challenge and Steel Trapp: The Academy. He has written more than twenty best-selling crime novels, including Killer View and Killer Weekend. He was the first American to be awarded the Raymond Chandler/Fulbright Fellowship in Detective Fiction at Oxford University.
or
Not Currently Available for Direct Purchase