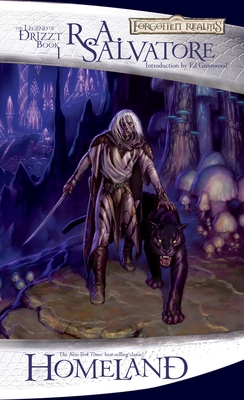 Homeland (Mass Market)
The Legend of Drizzt, Book I
Wizards of the Coast, 9780786939534, 384pp.
Publication Date: December 1, 2005
* Individual store prices may vary.
Description
Drow ranger Drizzt Do'Urden, first introduced in The Icewind Dale Trilogy, quickly became one of the fantasy genre's standout characters. But Homeland first reveals the startling tale of how this one lone drow walked out of the shadowy depths of the Underdark, leaving behind a society of evil and a family who want him dead. It is here that the story of this amazing dark elf truly began.
About the Author
R.A. Salvatore is the New York Times best-selling author of more than forty novels, including the popular Forgotten Realms series The Legend of Drizzt. He's an avid gamer, father of three, and loyal citizen of Red Sox Nation. Residence: Massachusetts