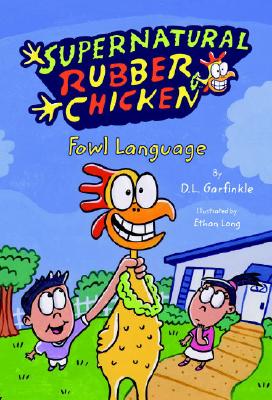 Fowl Language
Supernatural Rubber Chicken
Paperback

* Individual store prices may vary.
Description
Meet the world's first superpower-granting, smart-alecky, supernatural rubber chicken!

It all starts when ten-year old twing Nate and Lisa Zupinski discover a rubber chicken lying in a pile of their brother's dirty laundry. "Dudes," Dave says, "It's a supernatural rubber chicken. He's, like, magic. He'll give the first person who touches him a superpower. And you guys get to pick which power." Lisa and Nate don't believe a word their airhead brother says, but then the chicken starts talking!

"Get me off of Dave's dirty underwear!"

Lisa decides to ask the chicken to turn her shy friend Ashley into a charming speaker. But when big bully Hulk Paine gets his hands on the chicken, super charm turns into super trouble! From acclaimed author and humorist D.L. Garfinkle comes a new series so silly, so slapstick, it's supernatural!
Mirrorstone, 9780786950119, 128pp.
Publication Date: June 10, 2008
or
Not Currently Available for Direct Purchase