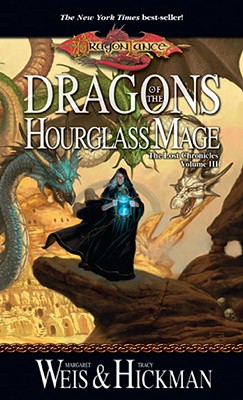 Dragons of the Hourglass Mage
Mass Market Paperbound

* Individual store prices may vary.
Other Editions of This Title:
Hardcover (8/4/2009)
Compact Disc (4/29/2016)
Compact Disc (3/1/2015)
MP3 CD (7/21/2015)
MP3 CD (10/2/2009)
MP3 CD (10/2/2009)
Compact Disc (10/2/2009)
Compact Disc (10/1/2009)
Description
The dramatic conclusion to the Lost Chronicles series
The War of the Lance is nearing its end--for good or ill. The wizard Raistlin Majere travels to Neraka, the lord city of the Dark Queen. Raistlin ostensibly plans to work for her, though in reality he means to further his own quest for power. The Dark Queen plans to destroy the gods of magic on the Night of the Eye, when all the wizards will congregate. Raistlin has to find a way to thwart the plot, even though this means doing battle with his own sister, the Dragon Highlord Kitiara, and her terrifying ally, the death knight, Lord Soth. And still he must overcome his final foe: the archmagus Fistandantilus, who seeks to kill Raistlin and steal his soul.
The creators of the Dragonlance(R) world return with their iconic characters, the Companions of he Lance, to show fans the rest of what really happened in the epic battle that determined the fate of the world of Krynn.
Wizards of the Coast, 9780786954834, 402pp.
Publication Date: May 4, 2010
About the Author
Margaret Weis and Tracy Hickman published their first novel in the -Chronicles- series of Dragonlance, Dragons of Autumn Twilight, in 1984. Over twenty years later they are going strong as partners - over thirty novels as collaborators - and, alone or together with other partners, over one hundred books, including novels, collections of short stories, role playing games, and other game products. Hickman is also the editor of a new Tracy Hickman Presents line of Dragonlance novels for Wizards of the Coast, while Weis is in the midst of her own, popular, solo Dark Disciple series for Wizards. Weis is also the President of Margaret Weis Productions, which publishes Dragonlance game material as well as many other game products. From the Hardcover edition.
or
Not Currently Available for Direct Purchase