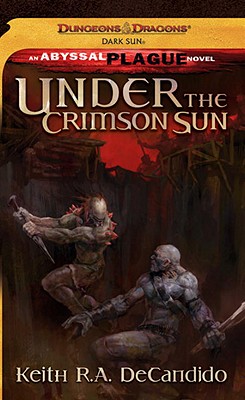 Under the Crimson Sun (Mass Market Paperbound)
Wizards of the Coast, 9780786957972, 307pp.
Publication Date: June 7, 2011
* Individual store prices may vary.
Description
Tharizdun, the Chanied God, has released the Voidharrow--a liquid crystal imbued with his will and all the chaos of the Abyss--into the universe, and with it comes a transformative engine of pestilence. When exposed to the Voidharrow, individuals look as though they've been stricken by disease as the Abyssal liquid twists and deforms them into chaotic demonlike creatures. Behold the Abyssal Plague!

When a trading caravan manned by grafters and con men comes across a dead man in the desert they open the door to an Abyssal realm long since destroyed. As the Voidharrow takes hold of one of their companions, he begins to morph into a beast like none they have ever seen.

When the stakes are raised in an attempt to defraud some of the more unsavory rulers of this cruel world, the Voidharrow comes to play a role in a move that could transform our heroes forever.
About the Author
While DeCandido is best known for his Star Trek fiction, he has written tie-ins for other popular sci-fi and fantasy series as well, such as Buffy the Vampire Slayer, Doctor Who, Supernatural, Andromeda and Farscape, as well as comic books (Spider-Man, X-Men), role-playing games (Dungeons & Dragons), and videogames (World of Warcraft, StarCraft, Command & Conquer). He has also edited various anthologies, including "OtherWere," "Urban Nightmares," "Imaginings," the Doctor Who collection "Short Trips: The Quality of Leadership," and the Star Trek anthologies "New Frontier: No Limits," "Tales of the Dominion War," and "Tales from the Captain's Table."

In 2009, DeCandido was given a Lifetime Achievement Award by the International Association of Media Tie-in Writers. That same year, he achieved a first-degree black belt in Kenshikai karate.
or
Not Currently Available for Direct Purchase