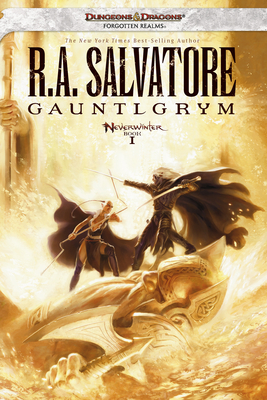 Gauntlgrym (Mass Market)
Neverwinter Saga, Book I
Wizards of the Coast, 9780786958023, 400pp.
Publication Date: July 5, 2011
Other Editions of This Title:
Hardcover (10/5/2010)
* Individual store prices may vary.
Description
Drizzt joins Bruenor on his quest for the fabled dwarven kingdom of Gauntlgrym: ruins said to be rich with ancient treasure and arcane lore. But before they even get close, another drow and dwarf pair stumbles across it first: Jarlaxle and Athrogate.  In their search for treasure and magic, Jarlaxle and Athrogate inadvertently set into motion a catastrophe that could spell disaster for the unsuspecting people of the city of Neverwinter—a catastrophe big enough to lure even the mercenary Jarlaxle into risking his own coin and skin to stop it. Unfortunately, the more they uncover about the secret of Gauntlgrym, the more it looks like they can't stop it on their own. They'll need help, and from the last people they ever thought to fight alongside again: Drizzt and Bruenor.
About the Author
R.A. Salvatore is the New York Times best-selling author of more than forty novels, including the popular Forgotten Realms® series The Legend of Drizzt. He's an avid gamer, father of three, and loyal citizen of Red Sox Nation.