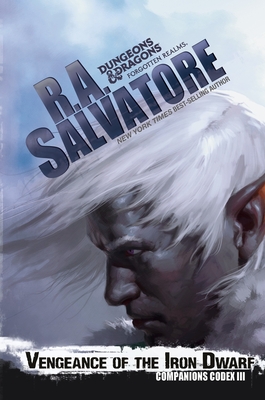 Vengeance of the Iron Dwarf (The Legend of Drizzt #30)
Mass Market

* Individual store prices may vary.
Other Editions of This Title:
MP3 CD (7/21/2015)
Hardcover (3/3/2015)
Description
The War of the Silver Marches rages across the Forgotten Realms in this unforgettable final episode in the Companions Codex
 
The reunited Companions of the Hall are separated once more—thrown to the far corners of a war that's bigger than any of them realized. They fight for the safety of Mithral Hall, but it's their own souls, and the soul of Faerûn itself, that truly hangs in the balance.
 
In the dreaded depths of the Underdark, Regis and Wulfgar seek shelter in the fabled Silverymoon, from which they can launch a series of daring new raids. The rest of the Companions reside at the besieged Mithral Hall, where new friends arrive on a mission of mercy—if such an emotion can rest in the heart of a dragon.
 
Meanwhile, the orc warlord Hartusk turns his savage horde on Everlund, one of the great cities of the Silver Marches. Though it stretches his forces thin, it's a move that could help him achieve his goal of becoming the master of the North. But Hartusk's treacherous drow allies have a different goal. They want nothing except the death of Drizzt Do'Urden—even if it comes at the cost of human, dwarf, elf, and orc lives.
 
The world is cloaked in darkness and blood runs in rivers across the North; orc hordes rage on and cities fall under brutal siege; old friendships are tested and new alliances are forged. But in the end, it may come down to a single dark elf choosing life over death, forgiveness over vengeance, law over chaos . . . peace over war.
 
Vengeance of the Iron Dwarf is the third book in the Companions Codex and the thirtieth book in the Legend of Drizzt series.
Wizards of the Coast, 9780786965724
Publication Date: August 4, 2015
About the Author
R.A. Salvatore was born in Massachusetts in 1959. He is the New York Times–bestselling author of more than forty novels, including the popular Forgotten Realms series, The Legend of Drizzt. His love affair with fantasy, and with literature in general, began during his sophomore year of college when he was given a copy of J.R.R. Tolkien's The Lord of the Rings as a Christmas gift. He promptly changed his major from computer science to journalism. He began writing seriously in 1982, penning the manuscript that would become Echoes of the Fourth Magic.

His first published novel was The Crystal Shard from TSR in 1988, and his novel The Silent Bladewon the Origins Award. He is still best known as the creator of dark elf Drizzt Do'Urden, one of fantasy's most beloved characters.