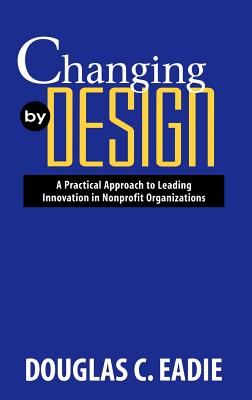 Changing by Design
A Practical Approach to Leading Innovation in Nonprofit Organizations (Jossey-Bass Nonprofit Sector Series)
Hardcover

* Individual store prices may vary.
Description
Change is an ever-present and powerful force in today's fast-pacedworld. To keep an organization clearly focused on fulfilling itsmission, nonprofit leaders must develop specific, strategicinitiatives to meet the challenges of a constantly evolvingenvironment. Changing by Design offers a proactive approach to both designingand implementing change initiatives within nonprofit organizations.By addressing three key areas?coordinated leadership on the part ofthe chief executive and the board, creative innovation in decidingwhat needs to change and how to change it, and effectiveimplementation of new ideas and programs, this book presents abalanced, comprehensive model for successfully managing change intoday's nonprofit. Illustrated by real-life case studies, Changing by Design shows howto: * Design and manage a change plan?from initial analysis throughimplementation
* Partner effectively with the board in leading change
* Encourage and unleash creativity and innovation in developingchange initiatives
* Effectively involve staff in designing and implementing change
* Protect change initiatives from becoming sidetracked byday-to-day pressures
* Recognize and deal with barriers to change
To successfully fulfill its mission and remain relevant to theworld around it, an organization must not only be ready and able toadapt to change but must also develop a culture where change isused as a strategic, creative tool for growth. Changing by Designprovides the innovative change management approach that willprepare any nonprofit organization to both maintain and expand itscapacity to address the serious economic and social issues facingtoday's turbulent world.
Jossey-Bass, 9780787908249, 227pp.
Publication Date: May 9, 1997
About the Author
DOUGLAS C. EADIE is the founder and president of Strategic Development Consulting, Inc., and Doug Eadie Presents! As consultant, writer, and speaker in the field of nonprofit leadership and management, Eadie specializes in designing and implementing processes that produce innovation, strengthening chief executive and board leadership, and building executive teams. Over the past twenty-five years, he has worked with more than three hundred nonprofit organizations. Eadie has also served as a public and nonprofit executive.