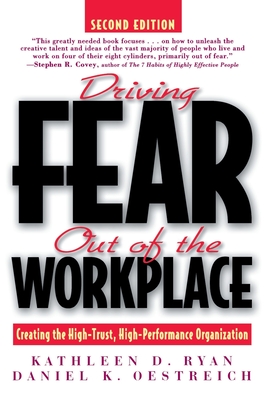 Driving Fear Out of the Workplace (Paperback)
Creating the High-Trust, High-Performance Organization (Jossey-Bass Business & Management)
Jossey-Bass, 9780787939687, 352pp.
Publication Date: April 17, 1998
* Individual store prices may vary.
Description
Restore Creativity and Trust to Your Workplace
Much has changed since Driving Fear Out of the Workplace first madethe undiscussable discussable back in 1991. Advances in technology, new employee/employer relations, and the corporate push to optimizeintellectual capital have introduced a host of new workplaceanxieties that, left unaddressed, can seriously inhibit individualperformance and cripple a company's ability to compete. Which iswhy, in this revised edition, authors Ryan and Oestreich revisittheir original, best-selling work to confront the fears thatpermeate today's organizations--so that they can become thehigh-trust, high-performance organizations of tomorrow. Thisinsightful book digs deeply into the root causes of fear and thepervasive 'flu of mistrust' that weakens motivation andcommitment.
--Terrence E. Deal and M. K. Key, authors of Corporate Celebration: Play, Purpose, and Passion at Work
You'll discover:
* How fear prevents people from doing their best
* How fear operates in organizations
How to build business relationships without fear...and muchmore
This work is a timely antidote to the insecurities of workers facedwith the pervasive push toward leaner, meaner organizations.