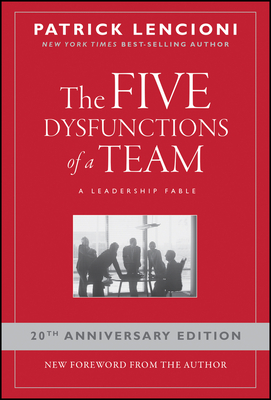 The Five Dysfunctions of a Team (Hardcover)
A Leadership Fable (J-B Lencioni #13)
Jossey-Bass, 9780787960759, 240pp.
Publication Date: April 11, 2002
* Individual store prices may vary.
Description
In The Five Dysfunctions of a Team Patrick Lencioni onceagain offers a leadership fable that is as enthralling andinstructive as his first two best-selling books, The FiveTemptations of a CEO and The Four Obsessions of anExtraordinary Executive. This time, he turns his keen intellectand storytelling power to the fascinating, complex world ofteams.

Kathryn Petersen, Decision Tech's CEO, faces the ultimateleadership crisis: Uniting a team in such disarray that itthreatens to bring down the entire company. Will she succeed? Willshe be fired? Will the company fail? Lencioni's utterly grippingtale serves as a timeless reminder that leadership requires as muchcourage as it does insight.

Throughout the story, Lencioni reveals the five dysfunctions whichgo to the very heart of why teams even the best ones-oftenstruggle. He outlines a powerful model and actionable steps thatcan be used to overcome these common hurdles and build a cohesive, effective team. Just as with his other books, Lencioni has writtena compelling fable with a powerful yet deceptively simple messagefor all those who strive to be exceptional team leaders.
About the Author
PATRICK M. LENCIONI is founder and president of The Table Group, a management consulting firm specializing in executive team development and organizational health. As a consultant and keynote speaker, he has worked with thousands of senior executives and their teams in organizations ranging from Fortune 500 companies to high-tech startups to universities and nonprofits. Lencioni is the author of 11 best-selling books, including The Advantage and The Ideal Team Player.To learn more about Patrick, and the products and services offered by his firm, The Table Group, please visit www.tablegroup.com.