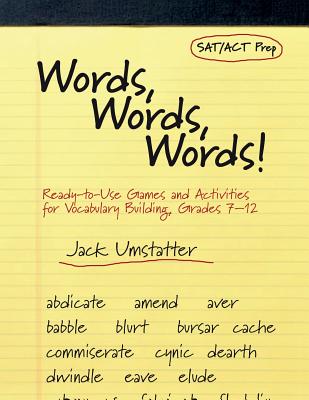 Words, Words, Words! (Paperback)
Ready-To-Use Games and Activities for Vocabulary Building, Grades 7-12
Jossey-Bass, 9780787971168, 318pp.
Publication Date: June 28, 2004
* Individual store prices may vary.
Description
Words, Words, Words
offers teachers a handy and much-needed resource filled with creative and engaging games and activities that will help students in grades 7-12 improve their vocabulary. The book features proven, practical, and accessible methods to encourage your students to increase their vocabularies and have fun while they are doing it.
Words, Words, Words
is divided into thirty thematic units each containing fifteen interrelated words. Each unit contains four different ready-to-use activities for each group of words. The book is designed to help students understand each word's meaning, associations, similarities, and differences and includes dynamic classroom-tested activities such as
Crossword puzzles
Matching columns
Magic squares
Jumbles
Word finds
Close reading
Multiple choice questions
Concealed quotations
Riddles
About the Author
Jack Umstatter, a master English teacher with more than 30 years' experience, is a multiple winner of the Teacher of the Year award. He currently teaches English and co-chairs the English department in the Cold Spring Harbor District in Long Island, New York. He is the author of numerous books including Hooked on English!, English Brainstormers!, Brain Games, and Grammar Grabbers from Jossey-Bass.