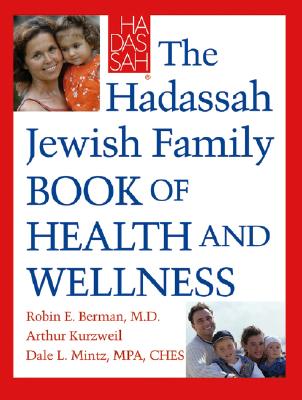 The Hadassah Jewish Family Book of Health and Wellness
Hardcover

* Individual store prices may vary.
Description
The Jewish people have special concerns, approaches, and attitudes about health and wellness, due in part to certain illnesses known as "Jewish genetic diseases," such as Tay-Sachs, Niemann-Pick, Gaucher, and others. Beyond these genetic diseases, however, the entire range of topics and issues related to health and wellness has long been of great interest to the religious and secular Jewish community. Jewish tradition has developed many special approaches to health and health-related issues, based on the hallowed traditions and precepts found in the Torah, its commentaries, and the vast literature written by rabbinic authorities throughout the centuries. Similarly Jewish secular culture has developed many special attitudes and approaches to the issues in this book regarding women's health, nutrition, raising children, caregiving, and other special issues.
The Hadassah Jewish Family Book of Health and Wellness, written in collaboration with Hadassah: The Women's Zionist Organization of America, known throughout the world for its leadership as a major force in health research and education, provides a much-needed resource and guide to physical health and spiritual issues that are of concern to Jewish families.
Jossey-Bass, 9780787980719, 503pp.
Publication Date: March 1, 2006
About the Author
Robin Ely Berman, M.D., is founder, president, CEO, and medical director of the National Gaucher Foundation. She has been a pioneer in her work with the National Institutes of Health (NIH) in researching and treating Jewish diseases, and also runs the Center for Integrative Medicine in Rockville, Maryland. Arthur Kurzweil is a writer and teacher, and serves as publisher at Parabola magazine. He is the editor of Best Jewish Writing 2003, and author of From Generation to Generation: How to Trace Your Jewish Genealogy and Family History and On the Road with Rabbi Steinsaltz, all from Jossey-Bass. Dale Liebson Mintz, MPA, CHES, is Hadassah's founding National Director of Women's Health and Advocacy and an expert of long standing in the field of health and wellness. She has spoken on doctor-patient communication, the sandwich generation, and many other topics to Jewish and secular audiences. She communicates her knowledge and passion to her audiences with enthusiasm to motivate them to take action on their own and their family's behalf.
or
Not Currently Available for Direct Purchase