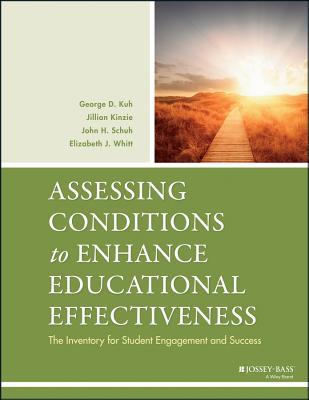 Assessing Conditions Enhance Ed. Effect. (Paperback)
Jossey-Bass, 9780787982201, 95pp.
Publication Date: September 1, 2005
* Individual store prices may vary.
Description
From the authors of Student Success in College--the book that describes the policies, programs, and practices of twenty colleges and universities that have created success-oriented campus cultures and learning environments--comes the next-step resource to help an institution assess whether these conditions exist. The authors present the Inventory for Student Engagement and Success (ISES), a self-guided framework for conducting a comprehensive, systematic, institutionwide analysis. The process also can be applied to areas within an institution, such as a school or college within a university, an academic or student affairs division, or a department or program. The ISES includes sets of diagnostic queries that focus on the six properties and conditions common to high-performing schools as well as the five clusters of effective educational practices featured on the National Survey of Student Engagement. Suggestions are offered to illustrate how the information generated from the ISES process can be used for various purposes including accreditation self-studies, program reviews, staff development, faculty and governing board retreats, and strategic planning.
About the Author
George D. Kuh is Chancellor's Professor of Higher Education and director of the Center for Postsecondary Research at Indiana University Bloomington, home to the National Survey of Student Engagement (NSSE), the NSSE Institute for Effective Educational Practice, and the College Student Experiences Questionnaire Research Program. Jillian Kinzie is associate director of the NSSE Institute for Effective Educational Practice and project manager of the Documenting Effective Educational Practice (DEEP) initiative. John H. Schuh is distinguished professor of educational leadership at Iowa State University. Elizabeth J. Whitt is professor in the College of Education and coordinator of Graduate Programs in Student Affairs Administration at the University of Iowa.